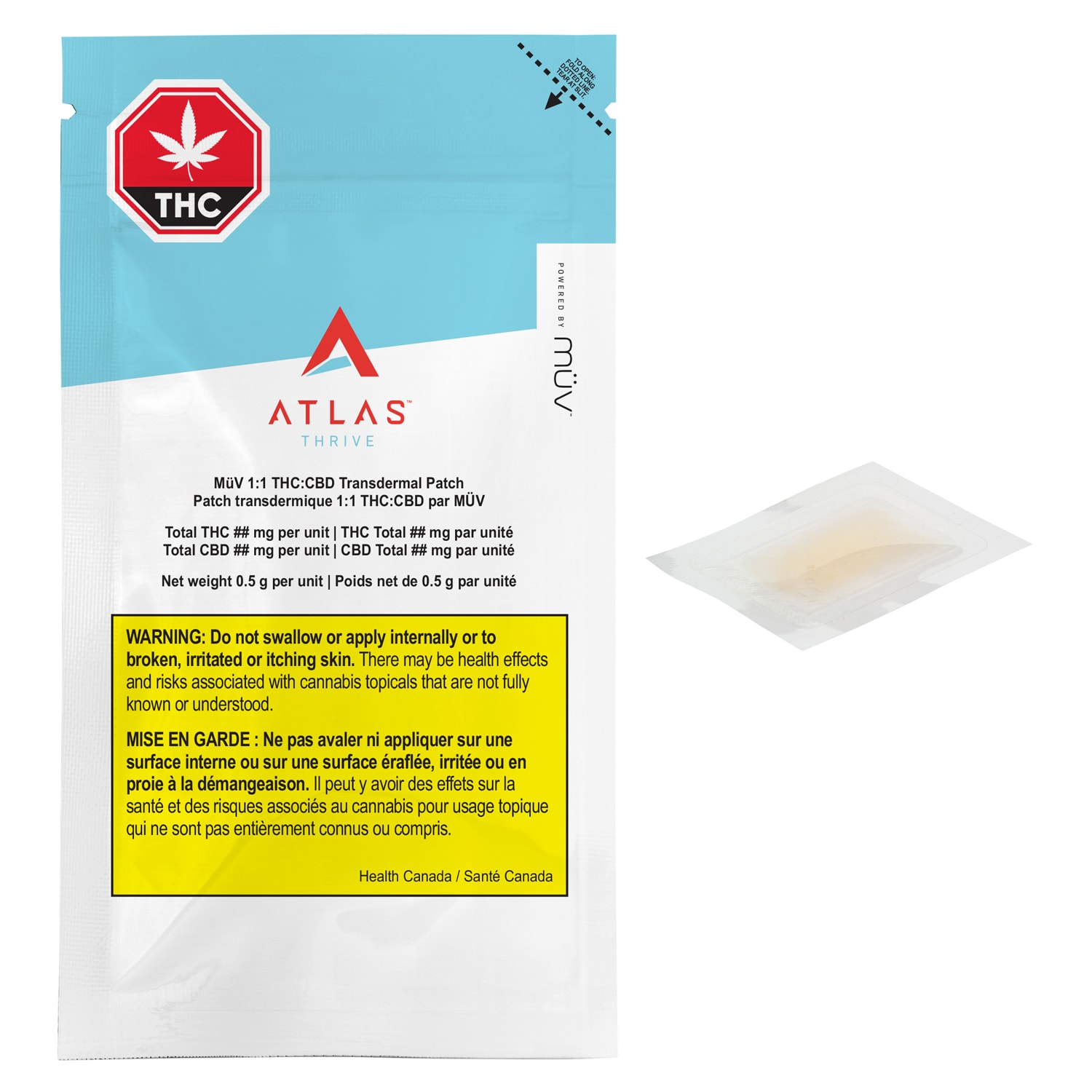 Cannabinoid Profile
11,00 $
Déduction pour allocation médicale 1.5g
Atlas Thrive 1:1 THC: CBD Transdermal Patch from Atlas Growers: Thrive offers a unique and discrete way to receive a steady release of medical cannabis. The combination of Atlas Growers' high-quality cannabis oil extract and Atlas Thrive's Evolve Transdermal Patches brings both unmatched cannabinoid permeability and state-of-the-art encapsulated delivery to consumers.

The typical onset time for Atlas Thrive (72 Hour Extended Release) Transdermal Patches is less than 30 minutes, and delivery continues over 72 hours. Engineered for use in everyday life, this hybrid cultivar patch offers a controlled 72-hour release micro-dose of cannabinoids at 0.28mg per hour, with a 30-minute window for effects to subside when removed. This patch provides an excellent smoke-free alternative and straightforward, durable use with peel-and-adhere technology that can be worn under clothes and in the shower.

Medical cannabis patients should try the Transdermal Patch on its own to gauge its effects and onset before adding additional methods of consumption.

When starting a new dosing regimen, it is crucially important that medication is administered in small doses (known as titrating) to determine an effective dose and minimize side effects. One patch (5.0 cm x 3.6 cm) constitutes one dose, and the patch cannot be cut or punctured. However, the patch can be removed, and effects will dissipate within 15 minutes; the patch can be reapplied to the skin, and patients can use medical tape to affix a patch that is loose on their skin. Common application sites for Atlas Thrive Transdermal Patches include the upper arm, chest, abdomen, or any venous region with minimal hair. Before use, clean the application site with soap and water or rubbing alcohol, ensure that the skin is dried and intact before applying the patch. Remove the clear liner to expose the adhesive (sticky) side of the backing, press the patch firmly in place, and hold it in place with the palm of the hand for 30 seconds to ensure uniform adhesion. The typical onset time for MÜV (72 Hour Extended Release) Transdermal Patches is less than 30 minutes, and delivery continues over 72 hours. Patients should wear the patch throughout the dosing period. After 72 hours, warm water (such as a hot shower) will help facilitate patch removal. Patients can use rubbing alcohol to remove excess adhesive during application or after patch removal. Application areas should be changed every three days if a new patch is to be applied.

DO ATLAS THRIVE TRANSDERMAL PATCHES HAVE INTOXICATING EFFECTS?

Two of the Thrive Transdermal Patches may have intoxicating effects: MÜV THC & MÜV 1:1.

HOW ARE THC AND CBD RELEASED INTO THE BLOODSTREAM?

THC and CBD are fat-soluble, so they can only penetrate the upper levels of the fatty dermis, resulting in localized pain relief. The EnCapsTM encapsulation technology utilizes a water-soluble gel to create a little envelope in which THC and CBD transfer through the lipid membranes, like human skin, to reach the bloodstream. Once the shuttle hits the bloodstream, the cannabinoids are released, resulting in fast-acting, systemic effects.

HOW LONG CAN THE PATCHES BE WORN?

Patients can wear each patch for 72 hours. You can wear it consistently for those 72 hours, or you can remove the patch as needed—just put the patch back on the plastic vessel it came in.

WHAT IS THE ADHESIVE MADE OUT OF?

Non-DMSO.

CAN IT BE WORN IN THE SHOWER, AT THE BEACH, AT THE POOL, ETC?
Yes, the patch can be worn in the shower or at the pool or gym. If the patch seems to lose its stickiness, secure it in place with medical tape.

CAN IT BE REMOVED AND PUT BACK ON?

The patch can be removed and put back on. If you place the patch back on its plastic backing from the packaging, it can be reapplied. If it seems to lose its stickiness, secure it in place with
medical tape.

IS IT POSSIBLE THE MEDICINE MAY LAST LONGER THAN 72 HOURS?

It is possible that the Thrive patch may last longer than 72 hours, but we recommend swapping your patch out at the recommended 72 hours for consistent dosing.

HOW CAN I SWITCH FROM A CANNABIS OIL TO A PATCH?

Atlas Thrive Transdermal Patches are considered a microdose product with an approximate dose of
0.28mg/hour with a total of 20 mg of active ingredient released over 72 hours. For patients currently taking regular doses of ingested oils, it is recommended to check the dose equivalency based on the potency of the current product they are taking. For high-dosage patients, the patch may be complimentary or "stacked" with other cannabis medicines. Still, patients should contact their healthcare practitioner to discuss using more than one delivery method simultaneously.

IS THE RATE OF RELEASE OF THC/CBD FROM THE PATCH LINEAR?

Yes, the rate of release of THC/CBD from the patch is linear.

WHAT IS THE RATE OF RELEASE OF THC/CBD PER HOUR?
The patch releases THC/CBD in a consistent dosage of 0.28mg/hour.

DOES HEAT (e.g. FROM A SHOWER, HOT TUB, BATH, BODY TEMPERATURE) INCREASE THE RATE OF RELEASE OF THE CANNABINOIDS FROM THE PATCH?

No, heat does not affect the transmission rate of the cannabinoids. The dose will remain
consistent regardless of the introduction of outside heat or variations in body temperature.

HOW DO YOU TITRATE USING THE PATCH?

Patients can start with having the patch applied for 4 hours the first day, then 6 hours the next day, etc.

WHICH AREAS OF THE BODY CAN THE PATCH BE APPLIED TO?

The Atlas Thrive transdermal patch may be used as target therapy or for general relief. It can be applied
to venous areas with thin skin and high blood flow, for example: on the arms, neck, back, stomach etc. Do
not apply over the eyes or mouth. For wearability, it is not recommended to use in hinge areas such as the wrist, as this can wear out the adhesive.

HOW CAN I MANAGE A REACTION CAUSED BY THE ADHESIVE ON THE PATCH?
Some patients may experience mild irritation and should discontinue use if it worsens. We recommend switching up the application area for frequent use patients with mild skin sensitivity from time to time. It's important to note that we do not use any DMSO (dimethyl sulfoxide) as the adhesive agent in this product. The adhesive agent is Acrylates Adhesive and may irritate highly sensitive skin. Patients must alternate the application site to reduce the likelihood of irritation.

COULD THE PATCH INTERACT WITH OTHER PRESCRIPTION MEDICATIONS?

We always recommend checking with your physician first, as the results may vary by patient experience. Thrive patches are considered a microdose delivery method to reduce the likelihood of interactions and side effects.

COULD THC FROM THE PATCH BE DETECTED IN BLOOD TESTS?
Yes, as this product penetrates directly into the skin membrane, the THC from the THC and 1:1 patches
would appear in blood tests.

Topiques
Les produits de cannabis topiques sont infusés avec des extraits de cannabis et conçus pour des applications externs.
Hybride
Combinaison de "sativa" et "indica". Produit un mélange d'effets.
Équilibrée
Possède une intensité modérée de THC et contient du CBD.
Foire aux questions
Quels symptômes peuvent être pris en charge avec le cannabis médical?
Des études sont en cours pour déterminer l'efficacité du cannabis dans la prise en charge des symptômes de nombreuses conditions. Des études ont montré que le cannabis médical est couramment utilisé par les patients souffrant des symptômes accompagnant diverses conditions, notamment l'anxiété, la douleur, l'inflammation, le manque d'appétit, la dépression, les troubles du sommeil, les nausées, les convulsions et l'hypertonie spastique (contractions involontaires et continues de certains muscles). 
Comment puis-je m'assurer de choisir le produit de cannabis qui me convient le mieux?
Votre fournisseur de soins de santé peut vous aider à choisir les produits de cannabis médical qui vous conviendront le mieux. Si vous avez besoin d'aide, contactez-nous par clavardage Web, ou appelez-nous et nous serons heureux de vous aider.
Qu'est-ce qu'un document médical
Un document médical est comme une ordonnance de cannabis médical qu'un médecin (ou, dans certaines provinces, une infirmière praticienne) remet à un patient. Ce document vous autorise à acheter du cannabis médical. Les documents médicaux peuvent être délivrés pour une période maximale de 12 mois ou une durée plus courte, à la discrétion de votre fournisseur de soins de santé.
Quels produits à base de cannabis médical proposez-vous?
La plateforme Cannabis Médical de Shoppers🅪 propose une grande variété de formats de cannabis médical pour répondre à vos besoins uniques. Nous travaillons en partenariat avec plus de 35 producteurs autorisés pour vous proposer un large choix de produits à base de cannabis médical, notamment des fleurs séchées, des huiles, des gélules, des vaporisateurs, des produits topiques (crèmes et gels), des produits comestibles et des concentrés, ainsi qu'une sélection d'accessoires pour vous aider à utiliser votre médicament de manière efficace.
Caractéristiques du site
Centre d'assistance sur le cannabis Shoppers
Les patients inscrits peuvent accéder à l'équipe du Centre d'assistance sur le cannabis Shoppers. Notre équipe spécialisée de conseillers du Centre d'assistance sur le cannabis est formée pour vous aider à choisir les produits les plus appropriés pour vos besoins.

Pour toutes demandes de renseignements, veuillez contacter le Centre d'assistance sur le cannabis Shoppers au numéro sans frais 1-844-633-2627.
Anciens Combattants du Canada
La santé et le bien-être des anciens combattants sont la priorité absolue de Shoppers. Nous soutenons les anciens combattants canadiens conformément à la politique de remboursement du cannabis à des fins médicales établie par Anciens Combattants Canada (ACC).

Un seul document, plus d'options
Vous pouvez vous procurer du cannabis médical auprès de plusieurs producteurs autorisés en utilisant un seul document médical.
Commencer