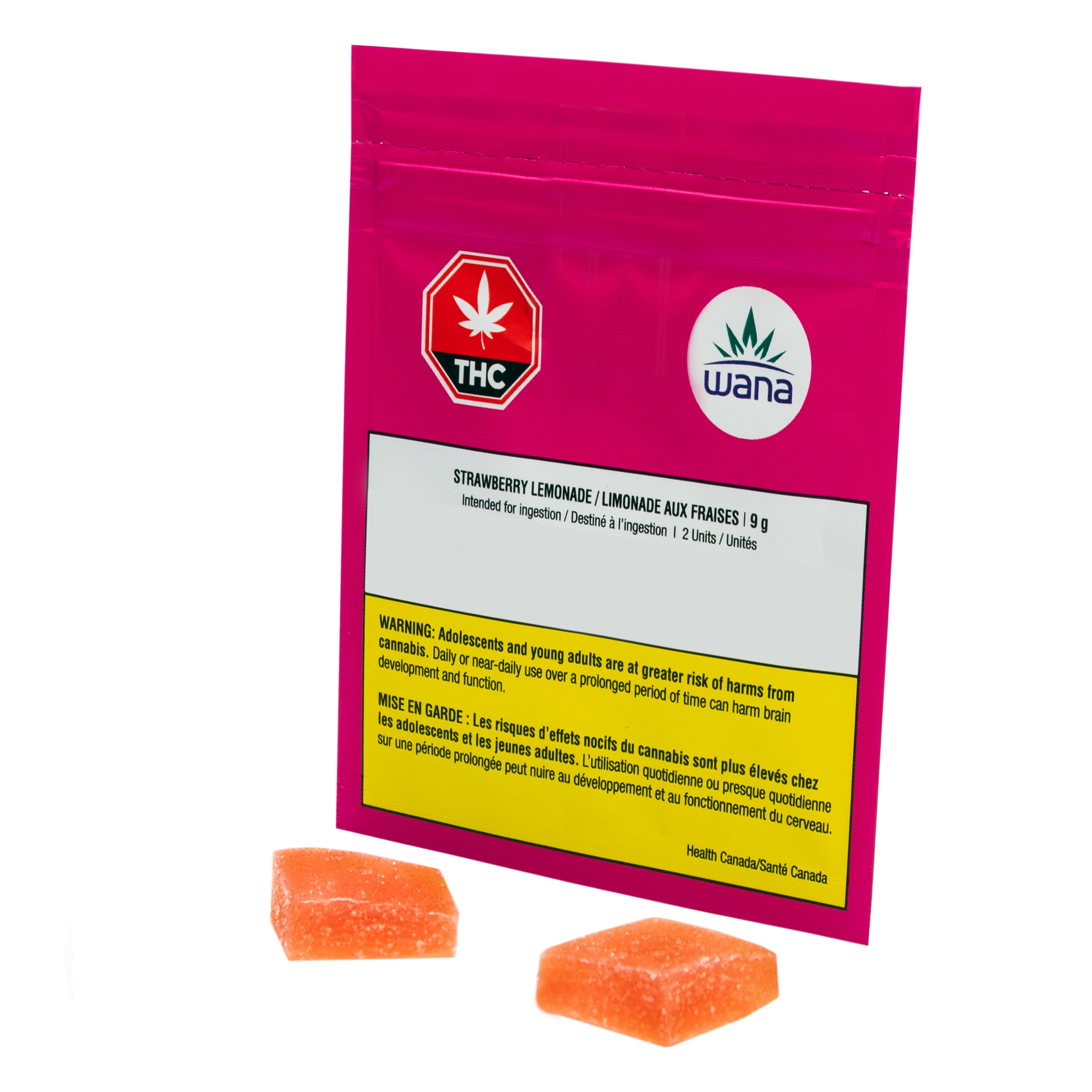 Cannabinoid Profile
$8.15
1g Medical Allotment Deduction
These Strawberry Lemonade 1:1 Sour Gummies from Wana contain a total of 10 mg of THC and 10 mg CBD and come in packages of 2. Wana Strawberry Lemonade 1:1 Gummies are made with ethanol-extracted cannabis distillate and bright notes of citrus with lush strawberry undertones. These handcrafted soft chews are infused with 10mg of THC and 10 mg CBD terpene enhanced cannabis distillate. They include the botanical terpenes Beta Caryophyllene, Linalool, D-Limonene, Alpha Pinene, and Geraniol. Each gummy contains 4.5 mgs of THC and 4.5 mgs of CBD.

The product image and label are provided for illustrative purposes only. The potency and concentration of this product may vary by batch.

How many Wana gummies are the right dose?

A cannabis-trained healthcare provider or pharmacist is a patient's best resource for finding the right dosage to help manage symptoms. Other factors that can influence how the body reacts to cannabis edibles include age, weight, gender, hormone fluctuations, energy levels, genetic makeup,  and other medical conditions. The most important takeaway is to follow the adage: start low, go slow.

Because cannabis edibles like these Wana gummies take time to work, and the felt effects are more substantial than with inhalation, begin with one serving of a microdose. (For example, divide on 5 mg gummy into two x 2.5 mg pieces; if needed, divide in half again to make four x 1.25 mg pieces.) See how you feel, then try again the next day. Here's a general guideline:

Microdose: 1 to 2.5 mg THC: A good beginner dose for patients new to cannabis, or those sensitive to THC. Patients may feel mild relief from symptoms.

Low dose: 2.5 to 5 mg THC: This slightly higher dose may provide increased relief from symptoms and also be helpful for sleep.

Medium dose: 5 to 10 mg THC: Stronger symptom relief may be felt at this dose, as well as mild to moderate intoxication.

High dose: 10 to 15 mg THC: This level is appropriate for patients accustomed to cannabis, or those seeking relief from symptoms not managed with smaller doses.

 Some patients may need even higher doses, depending on individual tolerance levels and persistence of symptoms.

What can Wana gummies do for patients?

Medical cannabis edibles offer a convenient alternative to smoking or vaping for patients. While the felt effects of cannabis-infused foods may take considerably more time than smoked or vaped cannabis, they do offer patients more potent, longer-lasting symptom relief. After medical cannabis such as these Wana gummies, slowly pass through the intestinal tract, taking between 30 minutes and two hours, they are then metabolized by the liver before entering the bloodstream. As the liver breaks down cannabinoids, it changes the structure of delta-9 THC into 11-hydroxy THC, which is a much more potent compound. Compared to smoking or vaping, which converts just 20 percent of delta-9 THC into 11-hydroxy THC, ingestion of Wana strawberry lemonade gummies converts 100 percent of available THC. Once released into the bloodstream, 11-hydroxy THC can be felt in the body for up to 12 hours, whereas inhaled cannabis lasts up to six hours.
Edibles
Edible cannabis products are foods that have been infused with cannabis extracts (such as chocolate, cookies, and gummies).
Hybrid
Combination of "sativa" and "indica". Produces a mixture of effects.
Balanced
Balanced products have a moderate level of THC content and contains CBD
Questions & Answers
What symptoms can be managed with the use of medical cannabis?
Studies are ongoing to determine the effectiveness of cannabis in managing the symptoms of many conditions. Studies have shown that medical cannabis is commonly used by patients suffering from symptoms of various conditions, including anxiety, pain, inflammation, poor appetite, depression, sleep disorders, nausea, seizures and spasticity (the involuntary, continuous contractions of certain muscles).


How do I choose a medical cannabis product?
Your healthcare provider can help you choose the medical cannabis products that are right for you. If you need assistance, contact us via web chat, or give us a call and we'll be happy to help you.
What is a medical document?
A medical document is like a prescription for medical cannabis that a doctor (or in some provinces, nurse practitioner) issues to a patient. This document authorizes you access to purchase medical cannabis. Medical documents can be issued for a maximum period of 12 months, or shorter duration, at the discretion of your health care provider.
What medical cannabis products do you offer?
The Medical Cannabis by Shoppers™ platform carries a wide variety of different formats of medical cannabis to suit your unique needs. We are partnered with over 35 licensed producers to offer a large selection of medical cannabis products, including dried flowers, oils, soft gels, vapes, topicals (creams and gels), edibles and concentrates, along with a selection of accessories to help you utilize your medicine effectively.
Site Features
Shoppers Cannabis Care
Registered patients can access the Shoppers Cannabis Care team. Our specialized team of Cannabis Care Advisors is trained to help you select the products that are most appropriate for your needs.

For all inquiries, please contact Shoppers Cannabis Care toll-free at 1-844-633-2627.
Veteran Affairs Canada
The health and well-being of veterans are top priorities at Shoppers. We support Canadian veterans following the medical cannabis reimbursement policy from Veterans Affairs Canada (VAC).

More choice with one medical document
Access medical cannabis in Ontario and across Canada from multiple licensed producers using a single medical document.
Get Started