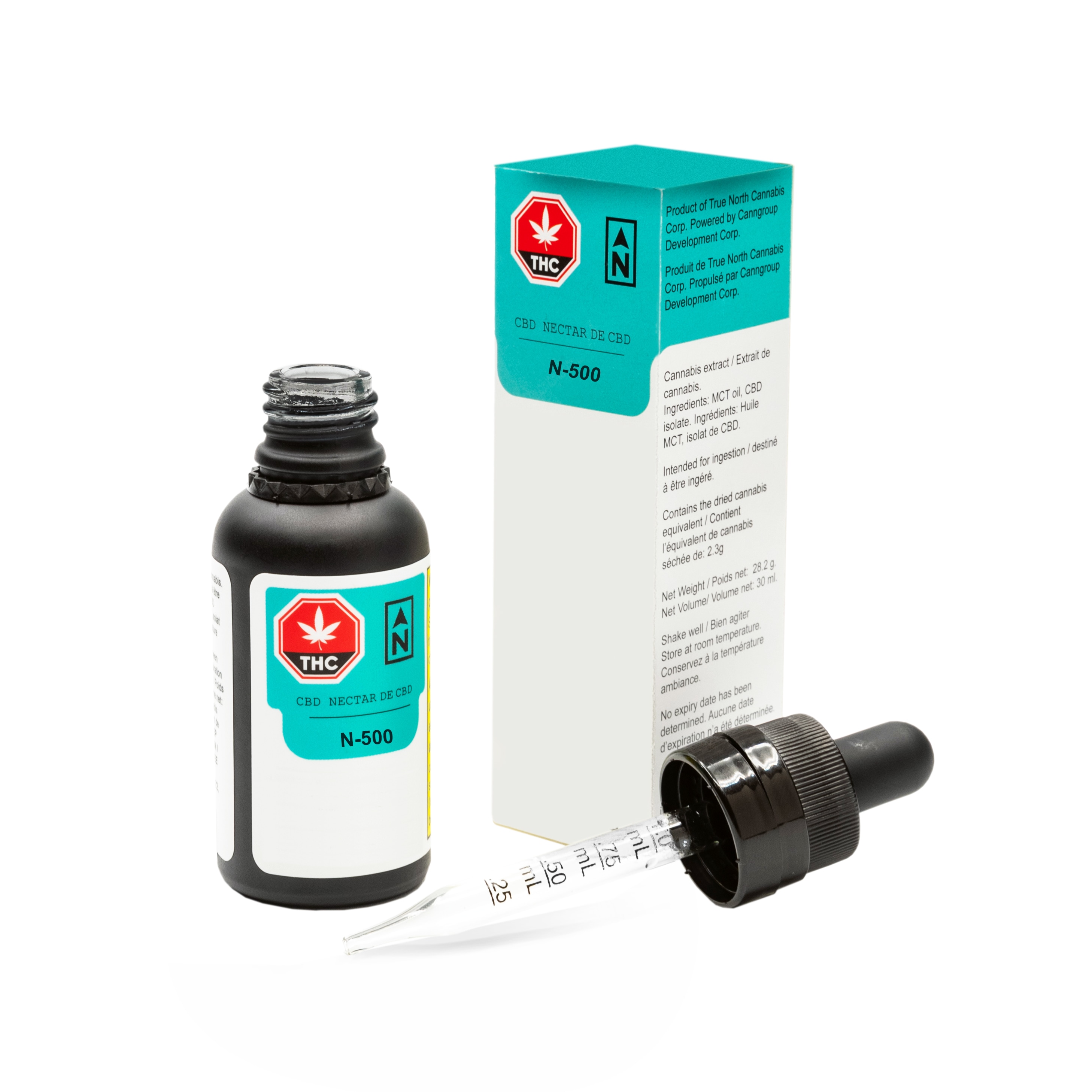 Cannabinoid Profile
$25.63
3g Medical Allotment Deduction
Hemp-derived CBD Nectar N-500 Oil from True North Cannabis is a high-quality CBD oil derived entirely from hemp. Each 30 ml bottle contains 500 mg CBD with a concentration of 16.5 mg of CBD per millilitre and 0 mg of THC. True North Cannabis oils provide patients with a THC-free CBD isolate product. There are no terpenes as they are completely removed in the extraction process to create the CBD Isolate. True North Cannabis oils are formulated using CO2 extraction technology and MCT (medium chain triglycerides) as the carrier oil. Canadian Industrial Hemp is extracted using a Subcritical CO2 process. The oil then goes through winterization, distillation and then through a reactor to produce 99%+ CBD Isolate. CBD Isolate is used to create a consistent THC-Free, CBD product. THC Content is 0 PPM.

The product image and label are provided for illustrative purposes only. The potency and concentration of this product may vary by batch.



Insert narrow tip of dropper into the bottle and squeeze the rubber top until the cannabis oil has reached the prescribed dosage on side of the dropper. Remove the dropper and close the bottle. Squeeze the rubber top and administer the CBD oil under your tongue and let the oil rest there for 30-60 seconds before swallowing.

How to take True North Cannabis CBD oil

Easy to incorporate with food or ingest on its own, True North Cannabis oils are made from Canadian-grown hemp and produced with medium-chain triglyceride (MCT) oil. To use, you can simply swallow CBD oil, which will pass through the intestinal tract like an edible. Oral absorption can take anywhere from 15 minutes to over an hour for onset, but it remains in the bloodstream like an edible, six to nine hours. Alternatively, True North Cannabis CBD oil is easily added to coffee or tea, smoothies, salad dressings, or other fat-rich foods. When consumed with food it generally takes one to two hours for CBD to be metabolized, but then the cannabinoid stays within the body for about six to nine hours.

Does CBD have side-effects?

Although considered non-intoxicating, CBD does affect the body and brain. Side effects noted with high-CBD cannabis can include nausea, fatigue, and irritability. It can also interact with some medications, particularly blood thinners, and also some antidepressants and pain medications. Always consult with a healthcare provider before starting any cannabis medicine.

Does True North Cannabis CBD Nectar N-500 Oil contain THC?

There is no THC in this hemp-derived CBD oil product, which is third-party Certificate of Analysis (COA) tested and verified for safety and accuracy.

Why isn't this hemp-derived CBD product on store shelves?

The production, manufacture and sale of CBD fall under the Cannabis Act, meaning only licenced producers and retailers are legally permitted to create and sell CBD-containing products. The Cannabis Act is in place to monitor cannabis production, from seed to sale, to safeguard the public against unwanted things such as moulds, pesticides and contaminants. Each of these checks and balances helps to ensure you, the patient, receive high-quality medicine. 

Even hemp-derived CBD falls under the Cannabis Act, including True North Cannabis products. Sometimes CBD gets confused with hemp-seed oil, an agricultural oil product made by pressing the grains of hemp plants. Hemp-seed oil does not contain CBD extract, or any other cannabinoids, which is why you can readily find cannabinoid-free hemp-seed oil in foods, soaps and other cosmetics at general retailers.
Ingested Extracts
Convenient and discreet medical cannabis oils, capsules and oral sprays in a range of cannabinoid combinations and strengths.
Hybrid
Combination of "sativa" and "indica". Produces a mixture of effects.
CBD Dominant
CBD-dominant products with THC levels that may be less than 2%
Questions & Answers
What symptoms can be managed with the use of medical cannabis?
Studies are ongoing to determine the effectiveness of cannabis in managing the symptoms of many conditions. Studies have shown that medical cannabis is commonly used by patients suffering from symptoms of various conditions, including anxiety, pain, inflammation, poor appetite, depression, sleep disorders, nausea, seizures and spasticity (the involuntary, continuous contractions of certain muscles).


How do I choose a medical cannabis product?
Your healthcare provider can help you choose the medical cannabis products that are right for you. If you need assistance, contact us via web chat, or give us a call and we'll be happy to help you.
What is a medical document?
A medical document is like a prescription for medical cannabis that a doctor (or in some provinces, nurse practitioner) issues to a patient. This document authorizes you access to purchase medical cannabis. Medical documents can be issued for a maximum period of 12 months, or shorter duration, at the discretion of your health care provider.
What medical cannabis products do you offer?
The Medical Cannabis by Shoppers™ platform carries a wide variety of different formats of medical cannabis to suit your unique needs. We are partnered with over 35 licensed producers to offer a large selection of medical cannabis products, including dried flowers, oils, soft gels, vapes, topicals (creams and gels), edibles and concentrates, along with a selection of accessories to help you utilize your medicine effectively.
Site Features
Shoppers Cannabis Care
Registered patients can access the Shoppers Cannabis Care team. Our specialized team of Cannabis Care Advisors is trained to help you select the products that are most appropriate for your needs.

For all inquiries, please contact Shoppers Cannabis Care toll-free at 1-844-633-2627.
Veteran Affairs Canada
The health and well-being of veterans are top priorities at Shoppers. We support Canadian veterans following the medical cannabis reimbursement policy from Veterans Affairs Canada (VAC).

More choice with one medical document
Access medical cannabis in Ontario and across Canada from multiple licensed producers using a single medical document.
Get Started