Redecan
"Redecan Cold Creek Kush Cannabis Flower "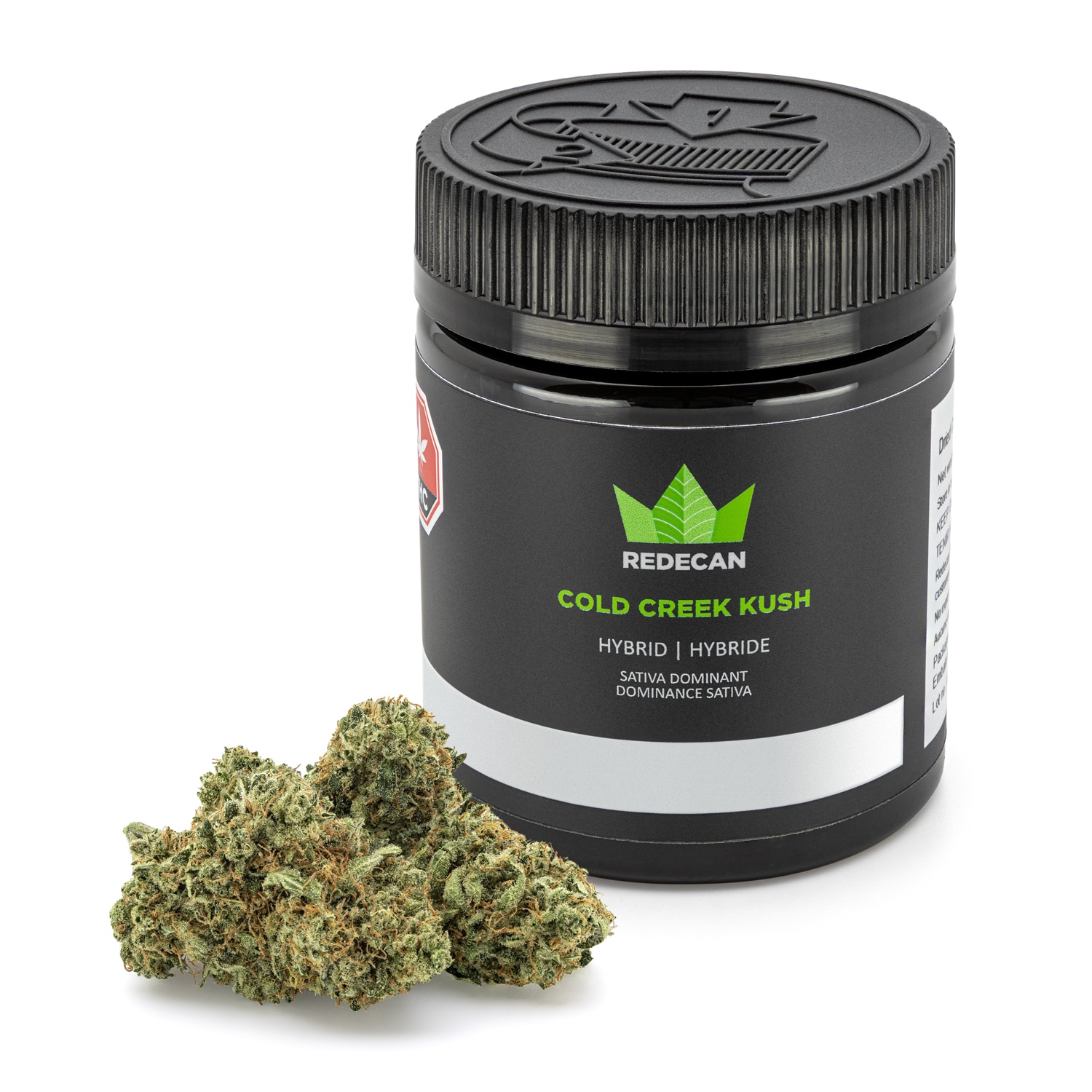 Redecan
"Redecan Cold Creek Kush Cannabis Flower "
Cold Creek Kush Cannabis Flower from Redecan is a high THC hybrid that crosses the powerful MK Ultra with fellow Colorado native Chemdawg 91. Medical cannabis patients may note a a distinct dank smell, much like a forest after a rainfall. Cold Creek Kush taste profile, informed by its Beta-Pinene, Nerolidol, Trans-Caryophyllene, Linalool, and Limonene terpene mix, is strongly herbal, earthy and woody, with fresh sour pine.

Redecan's Cold Creek Kush cannabis flower is available in 3.5, 7 & 15 gram jars. The product image and label are provided for illustrative purposes only. The potency and concentration of this product may vary by batch.


Dried Cannabis
Recommended for vaporization. Takes effect quickly and lasts for a shorter time.
Hybrid
Combination of "sativa" and "indica". Produces a mixture of effects.
THC Dominant
Contains high THC content greater than 15% and may contain CBD
Questions & Answers
Why medical cannabis?
People take medical cannabis for many different reasons. Managing the symptoms of a medical condition is just one of them.
What can I take medical cannabis for?
There is research to support medical cannabis use in a variety of conditions. Registered patients can learn more about specific products and their potential uses on our e-commerce site.
How does cannabis work?
Cannabis works by activating a system of natural receptors located throughout your body.
What's the difference between medical cannabis and cannabis from illegal dispensaries?
Medical cannabis comes with the guidance that only your healthcare team can provide.
Site Features
Shoppers Cannabis Care
Registered patients can access the Shoppers Cannabis Care team. Our specialized team of Cannabis Care Advisors is trained to help you select the products that are most appropriate for your needs.

For all inquiries, please contact Shoppers Cannabis Care toll-free at 1-844-633-2627.
Veteran Affairs Canada
The health and well-being of veterans are top priorities at Shoppers. We support Canadian veterans following the medical cannabis reimbursement policy from Veterans Affairs Canada (VAC).

Compassionate pricing promise
Eligible patients receive a 20% discount.
More choice with one medical document
Access medical cannabis from multiple licensed producers using a single medical document.
Get Started