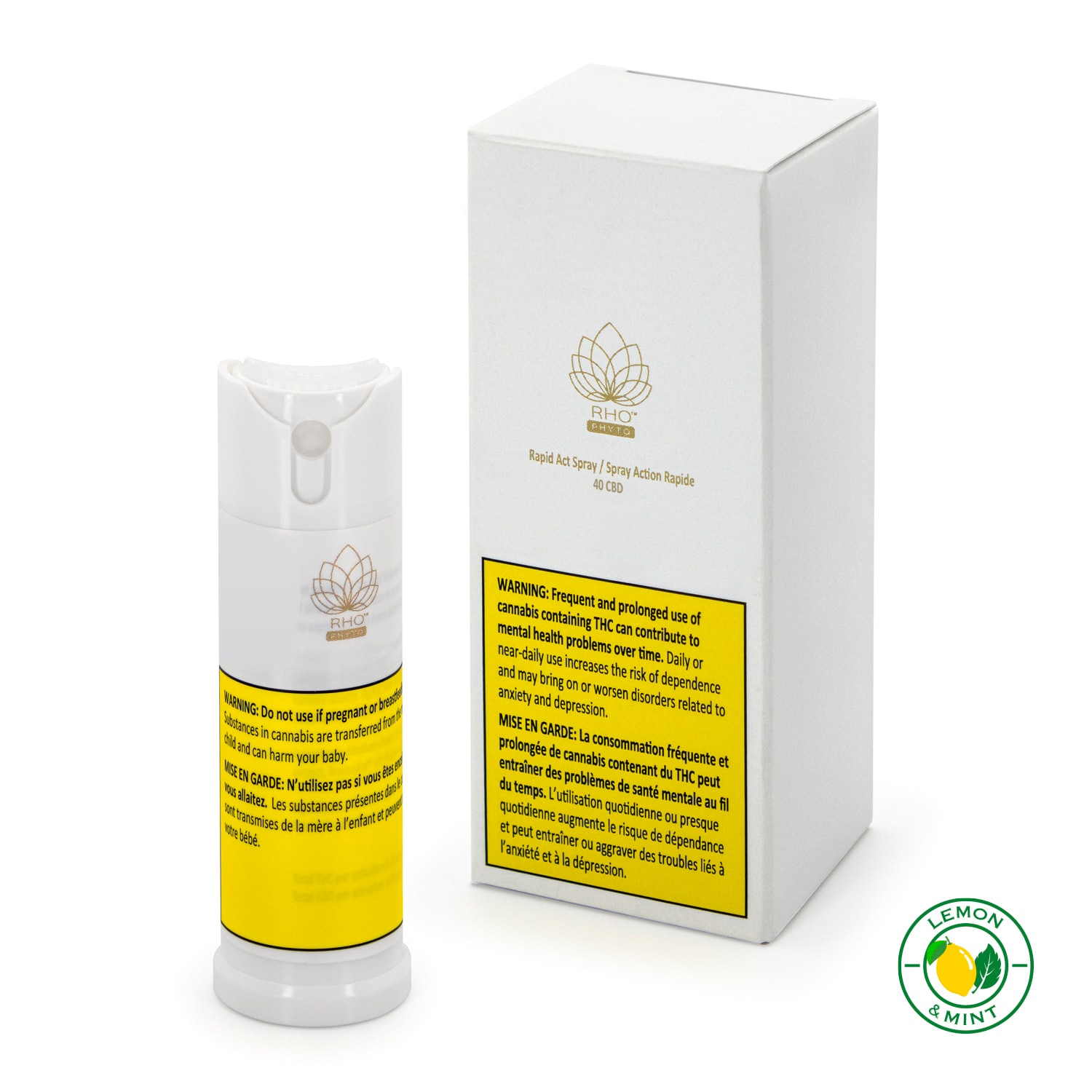 Cannabinoid Profile
$36.99
4.5g Medical Allotment Deduction
The Rapid Act Spray 40 CBD from RHO Phyto by Avicanna is a sublingual spray high in purified cannabidiol (CBD). Each 15mL bottle contains a total of 600 mg of CBD, where each spray (0.1 mL) provides 4 mg of CBD and 40 mg of CBD per mL (10 sprays per mL).
This tetrahydrocannabinol (THC)-Free* RHO Phyto Rapid Act Spray is formulated with purified cannabidiol (CBD) and is an alternative for patients who are looking for products that do not contain THC. *THC is below 0.122%




Rapid Act Spray is offered in a lemon-mint flavour and can be administered discreetly, is easy to use, and delivers accurate, consistent dosing. The sublingual spray is administered under the tongue to provide more direct absorption into the bloodstream by avoiding first-pass metabolism in the gut and liver. RHO Phyto's Rapid Act Sprays are optimized for increased absorption and faster onset in comparison to basic MCT (medium-chain triglyceride) sublingual sprays.

Sesame oil and MCT oil: Sesame oil and MCT oil have been used as natural sources of oil carrier. Sesame oil is rich in triglycerides composed of unsaturated fatty acids (e.g. linoleic, oleic) which after the action of enzymes, release those fatty acids known as sublingual penetration enhancers for several active pharmaceutical compounds. MCT oil is also susceptible to hydrolysis and release caprylic (C8) and capric acids (C10) which also have demonstrated penetration enhancer properties. Fatty acids have been shown to enhance the permeation of several drugs through epitheliums demonstrated by DSC and FTIR to be related to an increase in the fluidity of intercellular lipids.

Peppermint essential oil / Menthol: Peppermint essential oil is essentially made of terpenes including more than 40% of menthol. Menthol has demonstrated penetration enhancer properties on the skin as well as in the buccal cavity. It is assumed that the natural terpene menthol facilitated the fraction of the drug crossing through the transcellular pathway, by enhancing the partition coefficient of some active ingredients.

Shojaei AH, Khan M, Lim G, Khosravan R. Transbuccal permeation of a nucleoside analog, dideoxycytidine: effects of menthol as a permeation enhancer. Int J Pharm1999;192:139-46
Coutel-Egros A, Maitani Y, Veillard M, Combined effects of pH, co-solvent and penetration enhancers on the in vitro buccal absorption of propranolol through excised hamster cheek pouch. Int J Pharm1992;84:117-28
Kitano M, Maitani Y, Takayama K, Nagai T. Buccal absorption through golden hamster cheek pouch in vitro and in vivo of 17beta-estradiol from hydrogels containing three types of absorption enhancers. Int J Pharm1998;174:19-28

Transcutol: Diethylene glycol monoethyl ether (transcutol) has shown to enhance the permeation of essential oil components of Salvia desoleana through porcine buccal mucosa from microemulsion gels. Similarly to the skin, the former acts by inserting itself into the lipid bilayers and renders them more fluid; the latter changes the solubility parameter of the lipids and acts by improving drug solubility in the more hydrophilic area on the of the epithelium.

Harrison, J.E., Watkinson, A.C., Green, D.M. et al. The Relative Effect of Azone® and Transcutol® on Permeant Diffusivity and Solubility in Human Stratum Corneum. Pharm Res 13, 542–546 (1996). https://doi.org/10.1023/A:1016037803128
Ceschel GC, Maffei P, Moretti DL, Demontis S, Peana AT. (2000). In vitro permeation through porcine buccal mucosa of Salvia desoleana Atzei and Picci essential oil from topical formulations. Int J Pharm, 195:171–7.
Ingested Extracts
Convenient and discreet medical cannabis oils, capsules and oral sprays in a range of cannabinoid combinations and strengths.
Hybrid
Combination of "sativa" and "indica". Produces a mixture of effects.
CBD Dominant
CBD-dominant products with THC levels that may be less than 2%
Questions & Answers
What symptoms can be managed with the use of medical cannabis?
Studies are ongoing to determine the effectiveness of cannabis in managing the symptoms of many conditions. Studies have shown that medical cannabis is commonly used by patients suffering from symptoms of various conditions, including anxiety, pain, inflammation, poor appetite, depression, sleep disorders, nausea, seizures and spasticity (the involuntary, continuous contractions of certain muscles).


How do I choose a medical cannabis product?
Your healthcare provider can help you choose the medical cannabis products that are right for you. If you need assistance, contact us via web chat, or give us a call and we'll be happy to help you.
What is a medical document?
A medical document is like a prescription for medical cannabis that a doctor (or in some provinces, nurse practitioner) issues to a patient. This document authorizes you access to purchase medical cannabis. Medical documents can be issued for a maximum period of 12 months, or shorter duration, at the discretion of your health care provider.
What medical cannabis products do you offer?
The Medical Cannabis by Shoppers™ platform carries a wide variety of different formats of medical cannabis to suit your unique needs. We are partnered with over 35 licensed producers to offer a large selection of medical cannabis products, including dried flowers, oils, soft gels, vapes, topicals (creams and gels), edibles and concentrates, along with a selection of accessories to help you utilize your medicine effectively.
Site Features
Shoppers Cannabis Care
Registered patients can access the Shoppers Cannabis Care team. Our specialized team of Cannabis Care Advisors is trained to help you select the products that are most appropriate for your needs.

For all inquiries, please contact Shoppers Cannabis Care toll-free at 1-844-633-2627.
Veteran Affairs Canada
The health and well-being of veterans are top priorities at Shoppers. We support Canadian veterans following the medical cannabis reimbursement policy from Veterans Affairs Canada (VAC).

More choice with one medical document
Access medical cannabis in Ontario and across Canada from multiple licensed producers using a single medical document.
Get Started