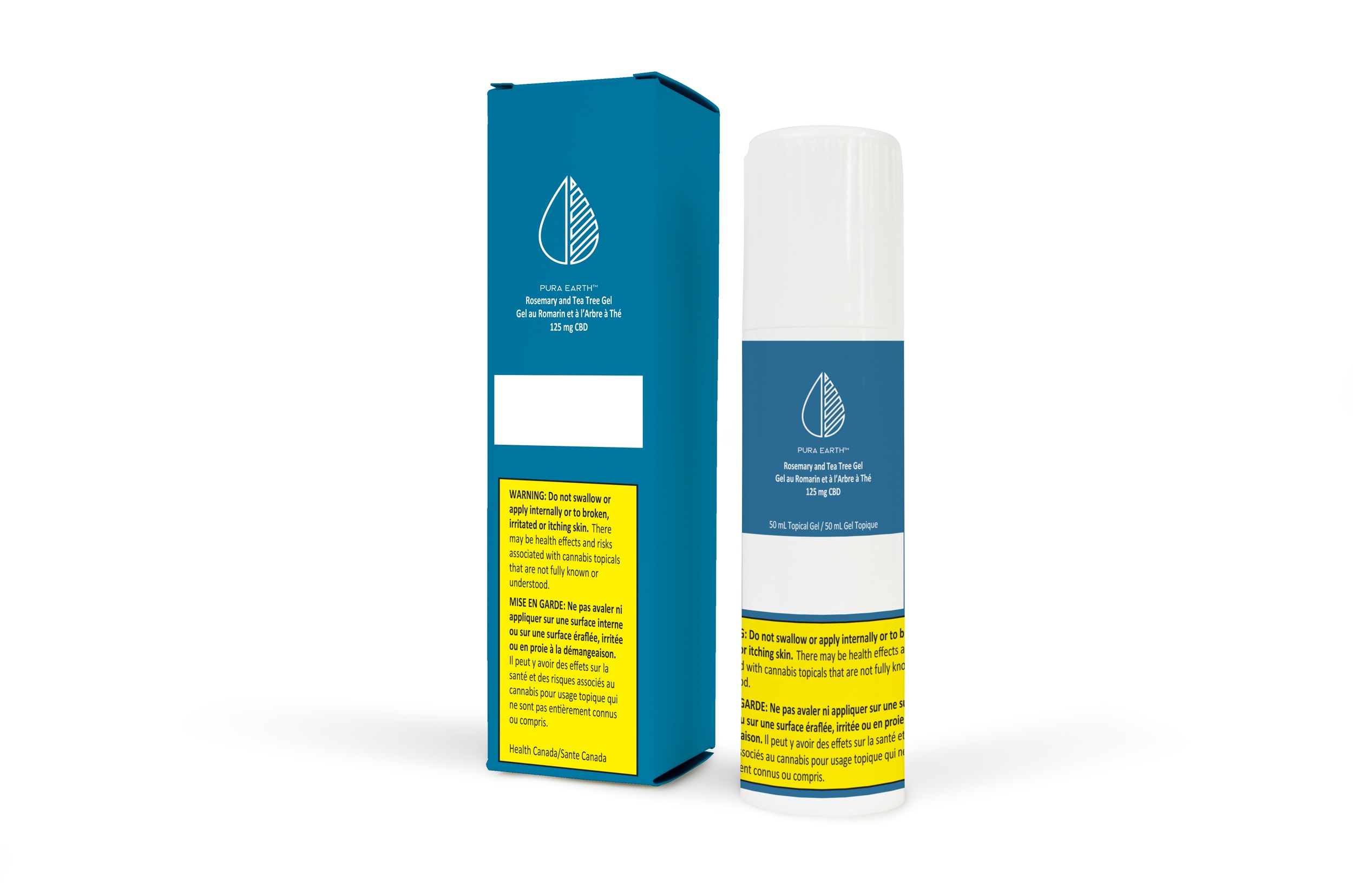 Cannabinoid Profile
$38.99
4.5g Medical Allotment Deduction
This Rosemary and Tea Tree Gel from Pura Earth is a fast-absorbing water-based gel containing CBD. This cannabis topical was developed through Avicanna's advanced scientific platform. It provides weightless oil control to reduce the appearance of shine while replenishing & protecting the skin's moisture barrier. Pura Earth Rosemary Tea Tree Gel is for topical use only.

Each 50 mL bottle of Rosemary Tea Tree Gel contains 125 mg of pure CBD (THC-free).

The formula comes in pharmaceutical-grade airless packaging, which protects against light and air to preserve the integrity of the delicate active ingredients.


Apply liberally and massage onto face and neck. Avoid broken skin and sensitive areas.

It is formulated with clove oil, rosemary & tea tree extracts with antioxidants and anti-microbial properties. Rosemary and Tea Tree Gel is a lightweight formulation with a light rosemary scent that provides a feeling of freshness. This THC-free formulation is dermatologist tested, hypoallergenic, cruelty-free, and vegan.
Topicals
Topical cannabis products are infused with cannabis extracts and designed for external applications.
Hybrid
Combination of "sativa" and "indica". Produces a mixture of effects.
CBD Dominant
CBD-dominant products with THC levels that may be less than 2%
Questions & Answers
What symptoms can be managed with the use of medical cannabis?
Studies are ongoing to determine the effectiveness of cannabis in managing the symptoms of many conditions. Studies have shown that medical cannabis is commonly used by patients suffering from symptoms of various conditions, including anxiety, pain, inflammation, poor appetite, depression, sleep disorders, nausea, seizures and spasticity (the involuntary, continuous contractions of certain muscles).


How do I choose a medical cannabis product?
Your healthcare provider can help you choose the medical cannabis products that are right for you. If you need assistance, contact us via web chat, or give us a call and we'll be happy to help you.
What is a medical document?
A medical document is like a prescription for medical cannabis that a doctor (or in some provinces, nurse practitioner) issues to a patient. This document authorizes you access to purchase medical cannabis. Medical documents can be issued for a maximum period of 12 months, or shorter duration, at the discretion of your health care provider.
What medical cannabis products do you offer?
The Medical Cannabis by Shoppers™ platform carries a wide variety of different formats of medical cannabis to suit your unique needs. We are partnered with over 35 licensed producers to offer a large selection of medical cannabis products, including dried flowers, oils, soft gels, vapes, topicals (creams and gels), edibles and concentrates, along with a selection of accessories to help you utilize your medicine effectively.
Site Features
Shoppers Cannabis Care
Registered patients can access the Shoppers Cannabis Care team. Our specialized team of Cannabis Care Advisors is trained to help you select the products that are most appropriate for your needs.

For all inquiries, please contact Shoppers Cannabis Care toll-free at 1-844-633-2627.
Veteran Affairs Canada
The health and well-being of veterans are top priorities at Shoppers. We support Canadian veterans following the medical cannabis reimbursement policy from Veterans Affairs Canada (VAC).

More choice with one medical document
Access medical cannabis in Ontario and across Canada from multiple licensed producers using a single medical document.
Get Started