MediPharm Labs
MediPharm Labs CBD Isolate Powder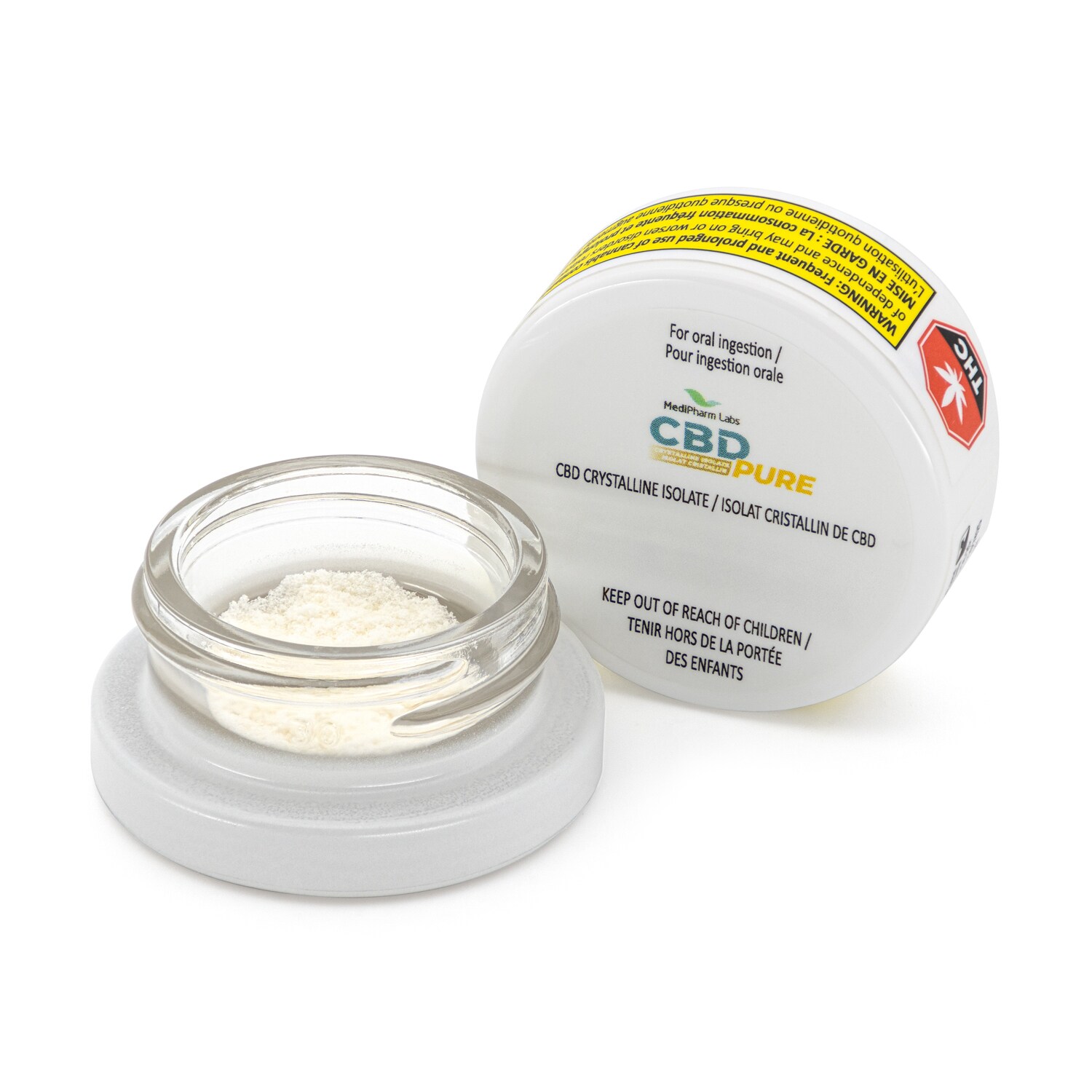 MediPharm Labs
MediPharm Labs CBD Isolate Powder
$49.99
6g Medical Allotment Deduction
Pure CBD Crystalline Isolate from Medipharm is a 99+% pure CBD white crystalline powder concentrate. It contains trace amounts of THC. Each jar contains approximately 500 mg of CBD. Pure CBD Isolate comes with a small spoon that holds approximately 50 mg of isolate for easy measurement. Each jar contains approximately ten 50 mg doses. CBD isolate is virtually flavourless and odourless, making it a versatile ingredient that won't interfere with recipes' flavour, texture, or aroma. Ingesting CBD Isolate will have a similar onset to edibles. Health Canada has not determined an expiry date for this product.

***CBD isolate is NOT compatible with water-soluble recipes.***

Each 0.5g jar of CBD Crystalline Isolate is equivalent to a 6 gram deduction from your medical allotment. The product image and label are provided for illustrative purposes only. The potency and concentration of this product may vary by batch.





How can I use CBD Crystalline Isolate?

Added to Food
CBD Crystalline Isolate is suitable to mix with oil and fat-based foods such as butter, oils, egg products, nut butter or flours, hummus, coconut-based or dairy-based foods such as yogurt or soft cheeses, avocados, olive paste, cocoa butter or milk chocolate.

Baking
CBD Crystalline Isolate can be used in its raw form or added before cooking, such as in baked goods. When baking with it, you will want to add the CBD isolate into the oil or egg mixture before folding in dry ingredients and mix well to ensure it is spread evenly. Keep in mind, CBD has a boiling point and can degrade in high heat. Make sure you cook at low temperatures at less than 350º Fahrenheit.

Making an Oil Mixture
You can make your own CBD oil out of CBD Crystalline Isolate that can easily be added to your coffee, teas, smoothies, or cooking. Combine your favourite oil (sunflower, coconut or olive oils, for example) with your desired dose of CBD Crystalline Isolate into a glass bottle. Shake it up and wait until the isolate has dissolved. Once dissolved, it can be used in cooking, coffee or tea, smoothies or under your tongue.

On Your Skin
CBD Crystalline Isolate can be combined with any skin oils or creams you use already on sore muscles or joints or skin inflammation, for example.

Vaping/Dabbing
You can add CBD Crystalline Isolate to your vape, or it can be dabbed to feel effects faster than ingesting it.
Edibles
Edible cannabis products are foods that have been infused with cannabis extracts (such as chocolate, cookies, and gummies).
Indica
Cannabis products labelled as "indica" may cause more drowsiness than products labelled as "sativa".
CBD Dominant
CBD-dominant products with THC levels that may be less than 2%
Questions & Answers
Why medical cannabis?
People take medical cannabis for many different reasons. Managing the symptoms of a medical condition is just one of them.
What can I take medical cannabis for?
There is research to support medical cannabis use in a variety of conditions. Registered patients can learn more about specific products and their potential uses on our e-commerce site.
How does cannabis work?
Cannabis works by activating a system of natural receptors located throughout your body.
What's the difference between medical cannabis and cannabis from illegal dispensaries?
Medical cannabis comes with the guidance that only your healthcare team can provide.
Site Features
Shoppers Cannabis Care
Registered patients can access the Shoppers Cannabis Care team. Our specialized team of Cannabis Care Advisors is trained to help you select the products that are most appropriate for your needs.

For all inquiries, please contact Shoppers Cannabis Care toll-free at 1-844-633-2627.
Veteran Affairs Canada
The health and well-being of veterans are top priorities at Shoppers. We support Canadian veterans following the medical cannabis reimbursement policy from Veterans Affairs Canada (VAC).

Compassionate pricing promise
Eligible patients receive a 20% discount.
More choice with one medical document
Access medical cannabis from multiple licensed producers using a single medical document.
Get Started