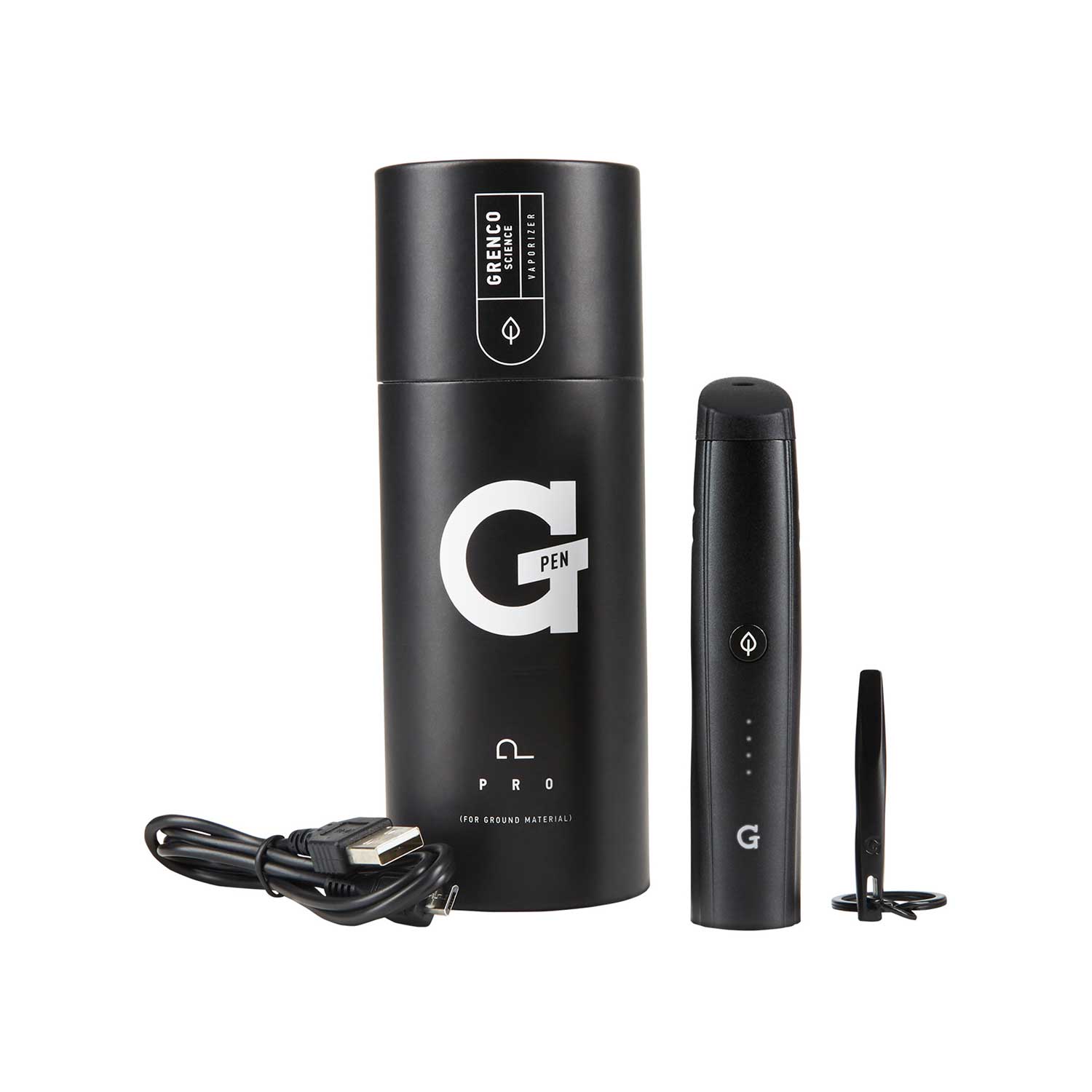 The G Pen Pro dried cannabis vaporizer from Grenco raises the bar once again by utilizing a huge ceramic oven that heats instantly in a sleek, refined, yet perfectly ergonomic form factor. A single button controls the powering and heating of the device to one of three preset temperatures - 375°F (Blue), 400°F (Green), and 428°F (Red), catering to the preference of any user.

The G Pen Pro's outer casing is comprised of a light yet durable aluminum, while its internal ceramic heating chamber holds a capacity of .25 g and heats to temperature within 30 seconds of activation.

Despite its small size, the G Pen Pro has a large battery that will keep you vaping session after session. The generous ceramic oven imparts no flavors to your material, you only taste exactly what you load. The three different heat settings allow to you achieve your personal level of vapor perfection. The G Pen Pro vaporizer comes with a stirring tool, cleaning brush, and a USB charging cable. The product image and label are provided for illustrative purposes only.
Questions & Answers
What symptoms can be managed with the use of medical cannabis?
Studies are ongoing to determine the effectiveness of cannabis in managing the symptoms of many conditions. Studies have shown that medical cannabis is commonly used by patients suffering from symptoms of various conditions, including anxiety, pain, inflammation, poor appetite, depression, sleep disorders, nausea, seizures and spasticity (the involuntary, continuous contractions of certain muscles).


How do I choose a medical cannabis product?
Your healthcare provider can help you choose the medical cannabis products that are right for you. If you need assistance, contact us via web chat, or give us a call and we'll be happy to help you.
What is a medical document?
A medical document is like a prescription for medical cannabis that a doctor (or in some provinces, nurse practitioner) issues to a patient. This document authorizes you access to purchase medical cannabis. Medical documents can be issued for a maximum period of 12 months, or shorter duration, at the discretion of your health care provider.
What medical cannabis products do you offer?
The Medical Cannabis by Shoppers™ platform carries a wide variety of different formats of medical cannabis to suit your unique needs. We are partnered with over 35 licensed producers to offer a large selection of medical cannabis products, including dried flowers, oils, soft gels, vapes, topicals (creams and gels), edibles and concentrates, along with a selection of accessories to help you utilize your medicine effectively.
Site Features
Shoppers Cannabis Care
Registered patients can access the Shoppers Cannabis Care team. Our specialized team of Cannabis Care Advisors is trained to help you select the products that are most appropriate for your needs.

For all inquiries, please contact Shoppers Cannabis Care toll-free at 1-844-633-2627.
Veteran Affairs Canada
The health and well-being of veterans are top priorities at Shoppers. We support Canadian veterans following the medical cannabis reimbursement policy from Veterans Affairs Canada (VAC).

More choice with one medical document
Access medical cannabis in Ontario and across Canada from multiple licensed producers using a single medical document.
Get Started