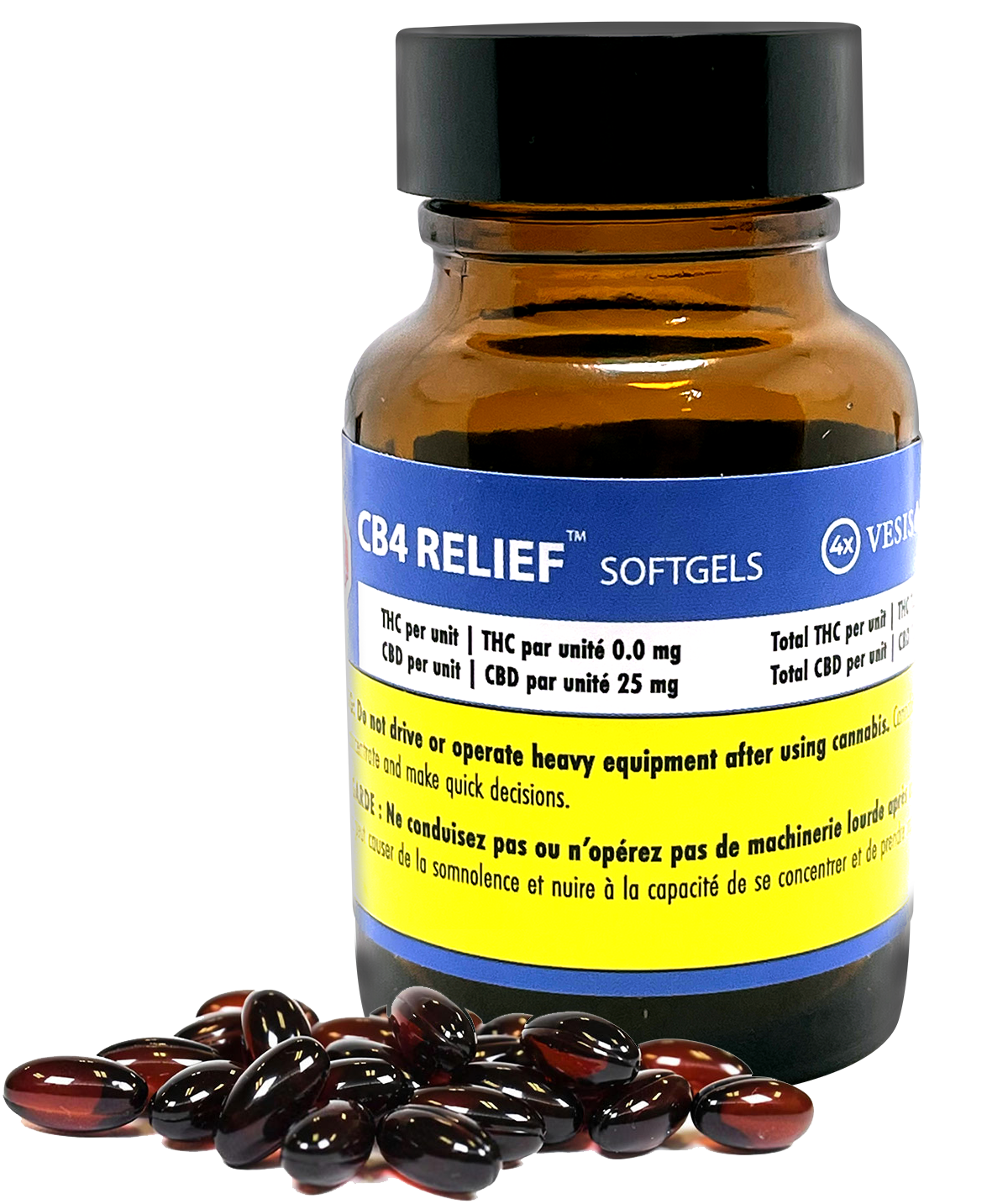 Cannabinoid Profile
$45.99
5.5g Medical Allotment Deduction
High potency, fast acting, long lasting: Opticann's CB4 Relief are amber-coloured oral softgel capsules, providing medical patients with a fast-acting, high-potency CBD option combined with beta caryophyllene for synergy with 4x the CBD absorption of other typical softgels. They also have 4x higher potency (based on peak absorption) and 3x faster onset (faster time to reach peak) versus most other oral CBD products (see below for graphs and clinical data). CB4 Relief softgels from Opticann contain 25mg of CBD, and 13mg of beta-caryophyllene (BCP) per capsule. These two ingredients are reported to act on the cannabinoid receptors in the endocannabinoid system. CB4 Relief softgels are THC free and are suitable for use for most patients any time of the day.
These innovative CBD softgel capsules are formulated with patented VESIsorb® technology for increased and consistent bioavailability, offering maximum and safe CBD absorption when taken orally. VESIsorb® is used to maintain the quality and stability of your medical cannabis.
What is VESIsorb®? A lipid-based formulation system, VESIsorb® is a patented collection of natural, water-soluble ingredients used in the pharmaceutical industry. There are peer-reviewed published clinical studies that show orally administered CBD is absorbed faster and to a greater extent with VESIsorb® than usual products made with MCT oil.CBD 25 mg VESIsorb® formulations can result in 4x the potency (i.e. equivalent to 100 mg of other CBD capsules).

Benefits of oral capsules:
• Consistent and long-lasting effect
• Avoid the by-products of inhalants
• Portable and easy-to-swallow
• Standardized, precision dosage

Reference:

[1] Knaub K, et al. "A Novel Self-Emulsifying Drug Delivery System (SEDDS) Based on VESIsorb® Formulation Technology Improving the Oral Bioavailability of Cannabidiol in Healthy Subjects." Molecules, vol.24, no.2964, 2019. https://pubmed.ncbi.nlm.nih.gov/31426272/

Modinger, Yvonne et al, Enhanced Oral Bioavailability of β-Caryophyllene in Healthy Subjects Using the VESIsorb® Formulation Technology, a Novel Self-Emulsifying Drug Delivery System (SEDDS) Molecules 2022, 27(9), 2860; https://www.ncbi.nlm.nih.gov/pmc/articles/PMC9104399
Each CB4 Relief softgel contains: Cannabis Sativa Extract 25 mg CBD, 13 mg Beta-Caryophyllene, Vitamin E Dimer Derivative, Mono and Diglycerides, Fatty Acids, Natural Flavours, Gelatin (bovine), Glycerine, Carob, Water. They are gluten-free and non-GMO.




The higher absorption from CB4 Relief softgels may enable patients to take one dose once or up to twice daily, with or without food, in the morning and/or the evening. Store in a cool, dry place, away from direct sunlight. May be taken with or without food. For best efficacy, take medications at the same time every day. Store softgels in a cool, dry place, away from direct sunlight.
Even lower doses of THC in this formulation may result in a mild level of THC side effects, including drowsiness, dizziness, and dry mouth, caution if warranted when initiating therapy.
Patients with known hypersensitivities to oral CBD or THC should exercise caution when consuming this product. Talk to your health care provider (physician or pharmacist) about what dose is right for you. Your health care provider can advise you on possible drug-drug interactions, precautions, and contraindications. Patients with known hypersensitivities to oral CBD should exercise caution when consuming this product. Talk to a trusted healthcare provider about what dose is right for you. Qualified healthcare providers can also advise you on potential drug interactions, precautions, and contraindications.



Ingested Extracts
Convenient and discreet medical cannabis oils, capsules and oral sprays in a range of cannabinoid combinations and strengths.
Hybrid
Combination of "sativa" and "indica". Produces a mixture of effects.
CBD Dominant
CBD-dominant products with THC levels that may be less than 2%
Questions & Answers
What symptoms can be managed with the use of medical cannabis?
Studies are ongoing to determine the effectiveness of cannabis in managing the symptoms of many conditions. Studies have shown that medical cannabis is commonly used by patients suffering from symptoms of various conditions, including anxiety, pain, inflammation, poor appetite, depression, sleep disorders, nausea, seizures and spasticity (the involuntary, continuous contractions of certain muscles).


How do I choose a medical cannabis product?
Your healthcare provider can help you choose the medical cannabis products that are right for you. If you need assistance, contact us via web chat, or give us a call and we'll be happy to help you.
What is a medical document?
A medical document is like a prescription for medical cannabis that a doctor (or in some provinces, nurse practitioner) issues to a patient. This document authorizes you access to purchase medical cannabis. Medical documents can be issued for a maximum period of 12 months, or shorter duration, at the discretion of your health care provider.
What medical cannabis products do you offer?
The Medical Cannabis by Shoppers™ platform carries a wide variety of different formats of medical cannabis to suit your unique needs. We are partnered with over 35 licensed producers to offer a large selection of medical cannabis products, including dried flowers, oils, soft gels, vapes, topicals (creams and gels), edibles and concentrates, along with a selection of accessories to help you utilize your medicine effectively.
Site Features
Shoppers Cannabis Care
Registered patients can access the Shoppers Cannabis Care team. Our specialized team of Cannabis Care Advisors is trained to help you select the products that are most appropriate for your needs.

For all inquiries, please contact Shoppers Cannabis Care toll-free at 1-844-633-2627.
Veteran Affairs Canada
The health and well-being of veterans are top priorities at Shoppers. We support Canadian veterans following the medical cannabis reimbursement policy from Veterans Affairs Canada (VAC).

More choice with one medical document
Access medical cannabis in Ontario and across Canada from multiple licensed producers using a single medical document.
Get Started