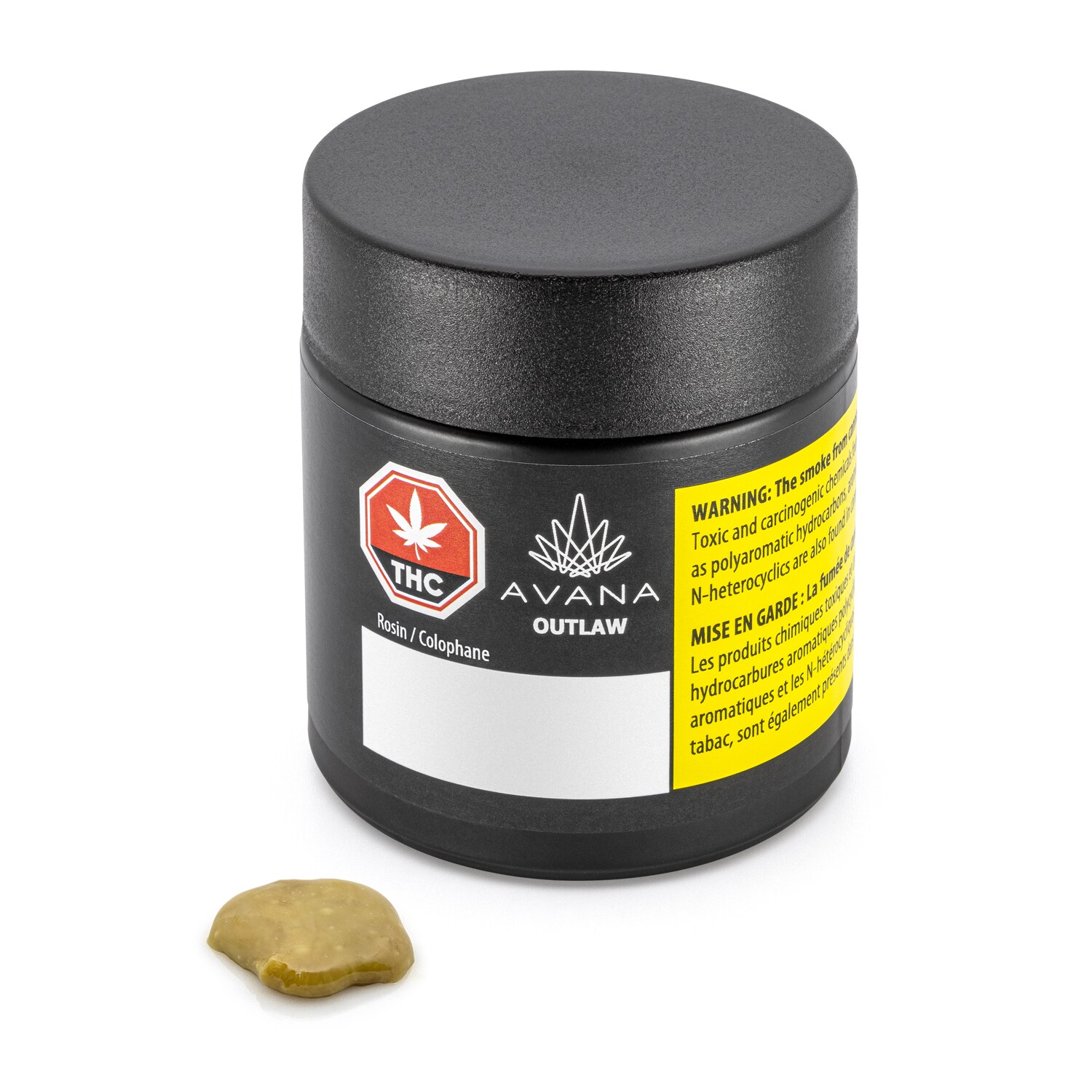 The Rosin from Avana is a Cannabis concentrate made from Avana's Outlaw strain. The Outlaw strain inspires the terpenes in the Avana Rosin concentrate. Medical cannabis patients can expect fruity, tropical top notes with a forest floor background and a persistent orange citrus character. Prominent terpenes in the Avana Rosin include Orange terpenes (DLimonene), beta-Caryophyllene, Myrcene, Linalool, beta-Pinene, and alpha-Terpineol.

The product image and label are provided for illustrative purposes only. The potency and concentration of this product may vary by batch.

This product is intended for use with a vaporizer or rig designed for concentrates and extracts.

Avana rosin is made from top quality dried cannabis, using a combination of heat and pressure to produce a potent, solventless concentrate. The end product is a thick, sticky, pure extract perfect for a vape pen or dab rig. Many prefer consuming rosin for its purity (solventless) and potency. Rosin is an elevated option for the traditional hash consumer. With a high-THC potency, medical cannabis patients should start low and go slow.
Concentrates
Cannabis concentrates include a variety of products that can be produced when the cannabis flower is processed into a concentrated liquid or solid form (such as cannabis oil, shatter and hash).
Sativa
Cannabis products labelled as "sativa" may cause less drowsiness than products labelled as "indica".
THC Dominant
Contains high THC content greater than 15% and may contain CBD
Questions & Answers
Why medical cannabis?
People take medical cannabis for many different reasons. Managing the symptoms of a medical condition is just one of them.
What can I take medical cannabis for?
There is research to support medical cannabis use in a variety of conditions. Registered patients can learn more about specific products and their potential uses on our e-commerce site.
How does cannabis work?
Cannabis works by activating a system of natural receptors located throughout your body.
What's the difference between medical cannabis and cannabis from illegal dispensaries?
Medical cannabis comes with the guidance that only your healthcare team can provide.
Site Features
Shoppers Cannabis Care
Registered patients can access the Shoppers Cannabis Care team. Our specialized team of Cannabis Care Advisors is trained to help you select the products that are most appropriate for your needs.

For all inquiries, please contact Shoppers Cannabis Care toll-free at 1-844-633-2627.
Veteran Affairs Canada
The health and well-being of veterans are top priorities at Shoppers. We support Canadian veterans following the medical cannabis reimbursement policy from Veterans Affairs Canada (VAC).

Compassionate pricing promise
Eligible patients receive a 20% discount.
More choice with one medical document
Access medical cannabis from multiple licensed producers using a single medical document.
Get Started