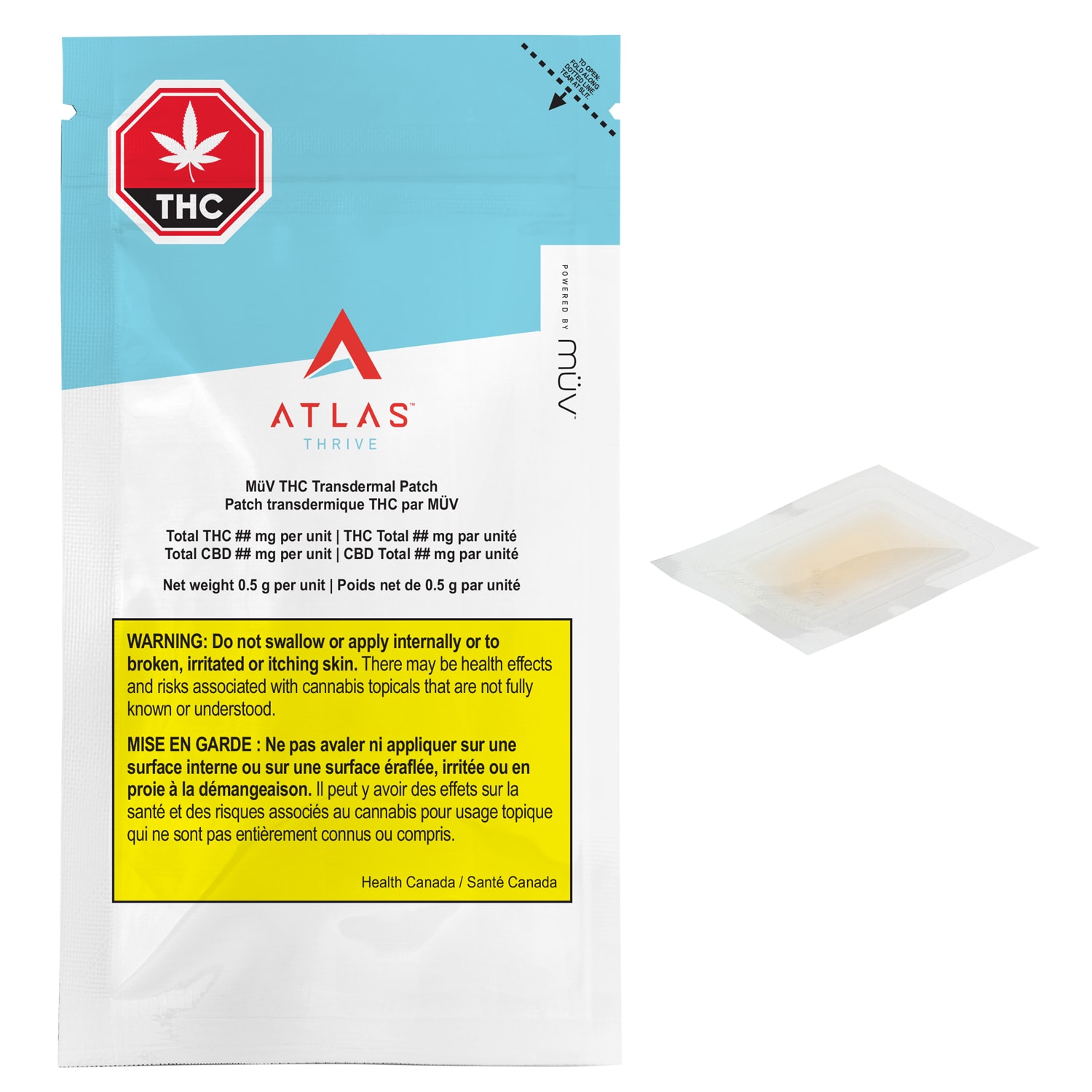 Cannabinoid Profile
$11.00
1.5g Medical Allotment Deduction
Atlas Thrive Transdermal THC Patch from Atlas Growers: Thrive offers a unique and discrete way to receive a steady release of medical cannabis.

The typical onset time for Atlas Thrive (72 Hour Extended Release) Transdermal Patches is less than 30 minutes, and delivery continues over 72 hours. Engineered for use in everyday life, this hybrid cultivar patch offers a controlled 72-hour release micro-dose of cannabinoids at 0.28mg per hour, with a 30-minute window for effects to subside when removed. This patch provides an excellent smoke-free alternative and straightforward, durable use with peel-and-adhere technology that can be worn under clothes and in the shower.

Medical cannabis patients should try the Transdermal Patch on its own to gauge its effects and onset before adding additional methods of consumption. Read on for more information about how to use the Atlas Thrive Transdermal Patch from Atlas Growers

When starting a new dosing regimen, it is crucially important that medication is administered in small doses (known as titrating) to determine an effective dose and minimize side effects. One patch (5.0 cm x 3.6 cm) constitutes one dose, and the patch cannot be cut or punctured. However, the patch can be removed, and effects will dissipate within 15 minutes; the patch can be reapplied to the skin, and patients can use medical tape to affix a patch that is loose on their skin. Common application sites for Atlas Thrive Transdermal Patches include the upper arm, chest, abdomen, or any venous region with minimal hair. Before use, clean the application site with soap and water or rubbing alcohol, ensure that the skin is dried and intact before applying the patch. Remove the clear liner to expose the adhesive (sticky) side of the backing, press the patch firmly in place, and hold it in place with the palm of the hand for 30 seconds to ensure uniform adhesion. The typical onset time for MÜV (72 Hour Extended Release) Transdermal Patches is less than 30 minutes, and delivery continues over 72 hours. Patients should wear the patch throughout the dosing period. After 72 hours, warm water (such as a hot shower) will help facilitate patch removal. Patients can use rubbing alcohol to remove excess adhesive during application or after patch removal. Application areas should be changed every three days if a new patch is to be applied.

DO ATLAS THRIVE TRANSDERMAL PATCHES HAVE INTOXICATING EFFECTS?

Two of the Thrive Transdermal Patches may have intoxicating effects: MÜV THC & MÜV 1:1.

HOW ARE THC AND CBD RELEASED INTO THE BLOODSTREAM?

THC and CBD are fat-soluble, so they can only penetrate the upper levels of the fatty dermis, resulting in localized pain relief. The EnCapsTM encapsulation technology utilizes a water-soluble gel to create a little envelope in which THC and CBD transfer through the lipid membranes, like human skin, to reach the bloodstream. Once the shuttle hits the bloodstream, the cannabinoids are released, resulting in fast-acting, systemic effects.

HOW LONG CAN THE PATCHES BE WORN?

Patients can wear each patch for 72 hours. You can wear it consistently for those 72 hours, or you can remove the patch as needed—just put the patch back on the plastic vessel it came in.

WHAT IS THE ADHESIVE MADE OUT OF?

Non-DMSO.

CAN IT BE WORN IN THE SHOWER, AT THE BEACH, AT THE POOL, ETC?

Yes, the patch can be worn in the shower or at the pool or gym. If the patch seems to lose its stickiness, secure it in place with medical tape.

CAN IT BE REMOVED AND PUT BACK ON?

The patch can be removed and put back on. If you place the patch back on its plastic backing from the packaging, it can be reapplied. If it seems to lose its stickiness, secure it in place with medical tape.

IS IT POSSIBLE THE MEDICINE MAY LAST LONGER THAN 72 HOURS?

It is possible that the Thrive patch may last longer than 72 hours, but we recommend swapping your patch out at the recommended 72 hours for consistent dosing.

HOW CAN I SWITCH FROM A CANNABIS OIL TO A PATCH?

Atlas Thrive Transdermal Patches are considered a microdose product with an approximate dose of 0.28mg/hour with a total of 20 mg of active ingredient released over 72 hours. For patients currently taking regular doses of ingested oils, it is recommended to check the dose equivalency based on the potency of the current product they are taking. For high-dosage patients, the patch may be complimentary or "stacked" with other cannabis medicines. Still, patients should contact their healthcare practitioner to discuss using more than one delivery method simultaneously.

IS THE RATE OF RELEASE OF THC/CBD FROM THE PATCH LINEAR?

Yes, the rate of release of THC/CBD from the patch is linear.

WHAT IS THE RATE OF RELEASE OF THC/CBD PER HOUR?

The patch releases THC/CBD in a consistent dosage of 0.28mg/hour.

DOES HEAT (e.g. FROM A SHOWER, HOT TUB, BATH, BODY TEMPERATURE) INCREASE THE RATE OF RELEASE OF THE CANNABINOIDS FROM THE PATCH?

No, heat does not affect the transmission rate of the cannabinoids. The dose will remain consistent regardless of the introduction of outside heat or variations in body temperature.

HOW DO YOU TITRATE USING THE PATCH

Patients can start with having the patch applied for 4 hours the first day, then 6 hours the next day, etc.

WHICH AREAS OF THE BODY CAN THE PATCH BE APPLIED TO?

The Atlas Thrive transdermal patch may be used as target therapy or for general relief. It can be applied to venous areas with thin skin and high blood flow, for example: on the arms, neck, back, stomach etc. Do not apply over the eyes or mouth. For wearability, it is not recommended to use in hinge areas such as the wrist, as this can wear out the adhesive.

HOW CAN I MANAGE A REACTION CAUSED BY THE ADHESIVE ON THE PATCH?

Some patients may experience mild irritation and should discontinue use if it worsens. We recommend switching up the application area for frequent use patients with mild skin sensitivity from time to time. It's important to note that we do not use any DMSO (dimethyl sulfoxide) as the adhesive agent in this product. The adhesive agent is Acrylates Adhesive and may irritate highly sensitive skin. Patients must alternate the application site to reduce the likelihood of irritation.

COULD THE PATCH INTERACT WITH OTHER PRESCRIPTION MEDICATIONS?

We always recommend checking with your physician first, as the results may vary by patient experience. Thrive patches are considered a microdose delivery method to reduce the likelihood of interactions and side effects.

COULD THC FROM THE PATCH BE DETECTED IN BLOOD TESTS?

Yes, as this product penetrates directly into the skin membrane, the THC from the THC and 1:1 patches would appear in blood tests.

Topicals
Topical cannabis products are infused with cannabis extracts and designed for external applications.
Hybrid
Combination of "sativa" and "indica". Produces a mixture of effects.
THC Dominant
Contains high THC content greater than 15% and may contain CBD
Questions & Answers
What symptoms can be managed with the use of medical cannabis?
Studies are ongoing to determine the effectiveness of cannabis in managing the symptoms of many conditions. Studies have shown that medical cannabis is commonly used by patients suffering from symptoms of various conditions, including anxiety, pain, inflammation, poor appetite, depression, sleep disorders, nausea, seizures and spasticity (the involuntary, continuous contractions of certain muscles).


How do I choose a medical cannabis product?
Your healthcare provider can help you choose the medical cannabis products that are right for you. If you need assistance, contact us via web chat, or give us a call and we'll be happy to help you.
What is a medical document?
A medical document is like a prescription for medical cannabis that a doctor (or in some provinces, nurse practitioner) issues to a patient. This document authorizes you access to purchase medical cannabis. Medical documents can be issued for a maximum period of 12 months, or shorter duration, at the discretion of your health care provider.
What medical cannabis products do you offer?
The Medical Cannabis by Shoppers™ platform carries a wide variety of different formats of medical cannabis to suit your unique needs. We are partnered with over 35 licensed producers to offer a large selection of medical cannabis products, including dried flowers, oils, soft gels, vapes, topicals (creams and gels), edibles and concentrates, along with a selection of accessories to help you utilize your medicine effectively.
Site Features
Shoppers Cannabis Care
Registered patients can access the Shoppers Cannabis Care team. Our specialized team of Cannabis Care Advisors is trained to help you select the products that are most appropriate for your needs.

For all inquiries, please contact Shoppers Cannabis Care toll-free at 1-844-633-2627.
Veteran Affairs Canada
The health and well-being of veterans are top priorities at Shoppers. We support Canadian veterans following the medical cannabis reimbursement policy from Veterans Affairs Canada (VAC).

More choice with one medical document
Access medical cannabis in Ontario and across Canada from multiple licensed producers using a single medical document.
Get Started