Viola
Viola is the leading Black-owned producer and licensed wholesaler of premium cannabis products in the USA rooted in purpose. Viola's mission is to increase minority participation and ownership in the cannabis industry while positively impacting and reinvesting into communities most affected by the war on drugs. With over 10 years of in the industry, Viola offers a wide variety of products across several states and throughout Canada.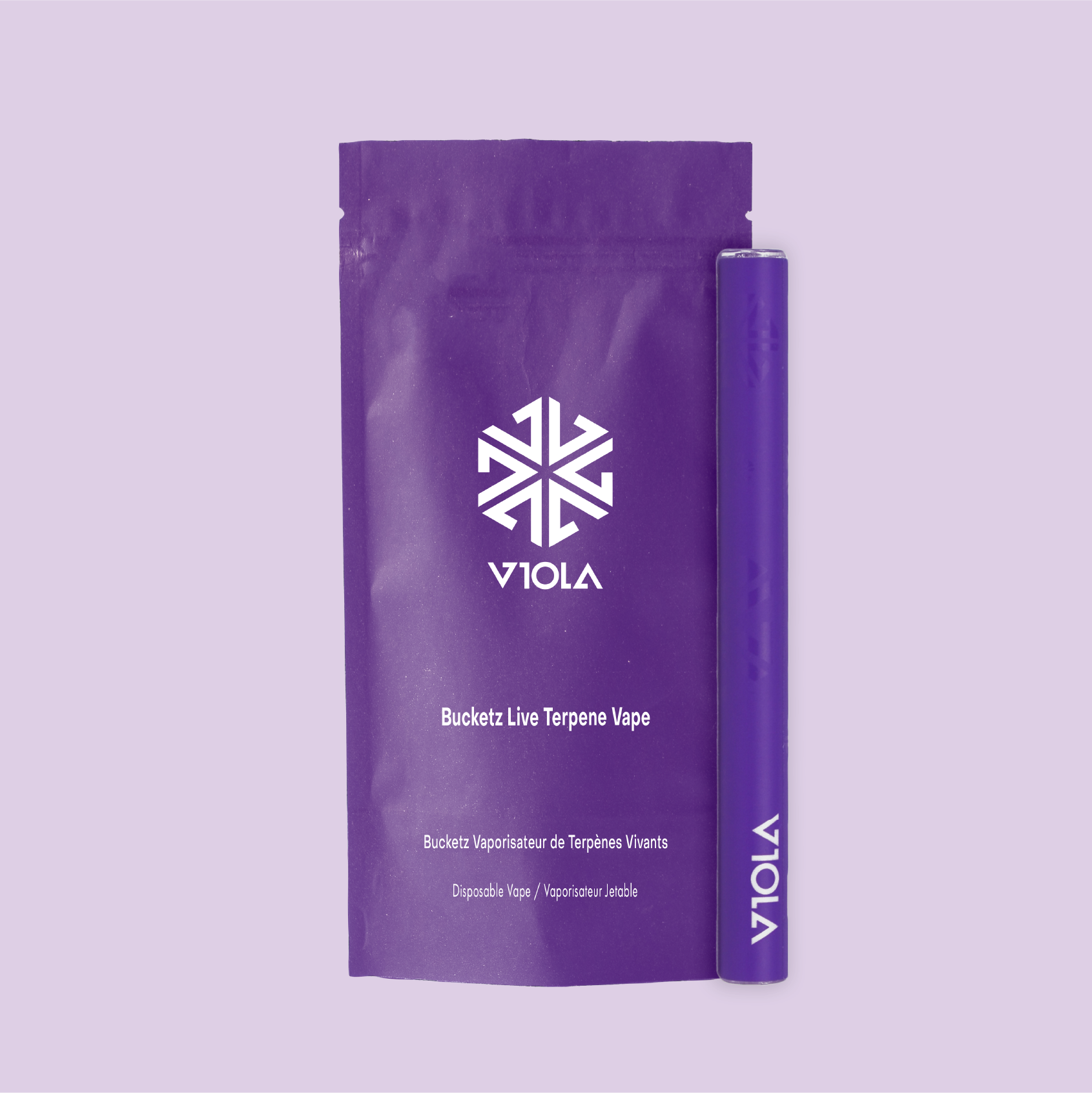 Bucketz Disposable Vape Pen
Live Terpenes
This heavy-hitting sativa is expertly formulated to deliver a smooth, full flavor each and every draw. Produced with fresh frozen live resin extracts and premium technology.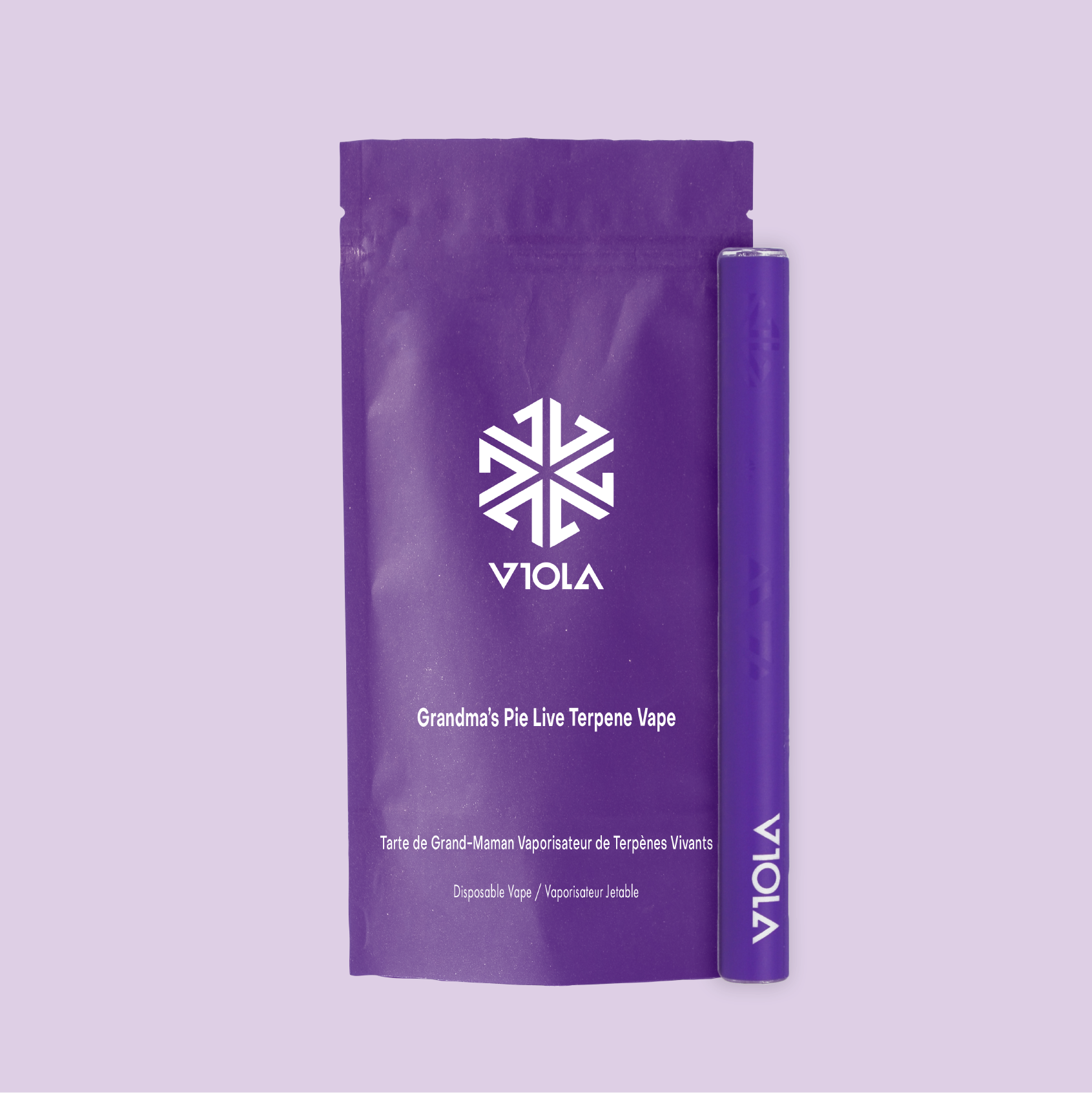 Grandma's Pie Disposable Vape Pen
Live Terpenes
This balanced 1:1 CBD-THC Hybrid is expertly formulated to deliver a smooth, full flavor each and every draw. Produced with fresh frozen live resin extracts and premium technology.

Q & A with Medical Cannabis by Shoppers
VIOLA
Where are you located? Why do you work in this community?

Los Angeles California based company but active in 8 States and now Canada. The brand was initially launched 10 years in Colorado in 2011 which was the first State to legalize cannabis.



Why is medical cannabis important to your organization?

Our origin story is based in the medicinal use of cannabis. Viola's founder and CEO, Al Harrington, was first introduced to cannabis when he was playing in the NBA in Denver. While there, his grandmother visited him. At the time Ms. Viola was suffering from glaucoma and taking multiple prescription medications to no avail. Al suggested she try cannabis, which was legal in Colorado, to alleviate her symptoms. She was resistant, coming from the generation that "reefer" was "bad", but at that point, she was willing to try anything. Al provided her a vape pen, from which she took a few draws. When he checked on her a few hours later she was in her room reading her bible and crying. She expressed that this was the first time she had been able to read her bible in years, and at that moment Al was convinced of the power of the plant and subsequently named his company Viola, after his grandmother.



Which awards, certifications, recognitions have your company/brand/individuals in your organization received?

High Times Best Brands 2020
Pioneer Hottest Brands 2020
Inc 5000 Regionals - No. 26 Fastest growing private companies in California



Which 'firsts' (ie. 'first colour-coded CBD Softgels product….') and other innovations is your company/brand proud of?

Viola is the first and largest black owned brand with focus on social equity and minority representation. Viola is also the first black owned cannabis brand to become international with the launch in Canada.



How does your organization show leadership in support of fairness and equality?

Viola is based in creating equitable opportunities for people of color in the cannabis business. Through strategic partnerships, education, and our accelerator program, Viola uses its resources to help increase minority ownership in the industry. Viola also continues to reinvest into communities most affected by the war on drugs by partnering with local organizations. The Viola Cares program focuses on community engagement and support, working with local and national organizations. Viola Cares program focuses on providing immediate resources for people in need of support, shaping local cannabis industry policy, social justice reform, expungement, and successful reentry into society.



What initiatives are you implementing (or have implemented) to ensure diversity in leadership roles? (race, gender, orientation, and disability).

Viola aims to increase employment of women by 11%; Black, Indigenous, and People of Color employment by 10%; and people over the age of 40 by 4% by the end of 2022.
Products
How do you ensure that your products are safe and high quality for patients? Provide 2-3 specific examples of how you ensure safety/quality.

Our Canadian products are commercialized through our partnership with Avicanna Inc, a Toronto based biopharmaceutical company with strict quality standards. We ensure our standard operating procedures are followed during production and validate that through postproduction quality controls and testing beyond the requirements of Health Canada. Additionally, we utilize a GMP analytical laboratory for all our final product testing including pesticides, heavy metals and other Health Canada required tests. In our vaporizers we are only using cannabis derived materials and do not add any botanical terpenes or chemicals.



What sets your products apart from competitive products and why should this matter to patients and consumers? (Feel free to mention individual products specifically, or your product portfolio or organization as a whole).

For the past decade our products are designed to provide both premium experience for users but also represent our social equity values. The products only use premium ingredients no chemical additives and have gone through our selection and filtering process which differentiates us from our competitors.



Which of your products have had the most interest from patients and healthcare providers and why?

Our all in 1 vaporizer seem to be a great fit for patients who are new to consuming cannabis as they are easy to use, do not need any additional accessories and can help a patient avoid inhalation through combustion. Additionally, we are also offering these vapes in a 1-1 ratio of CBD-THC which allows for more balanced effect.



What are the growing practices for your flower, and what kind of extraction methods do you use for your formulations?

Our 510 carts and vaporizers both use premium flower that is freshly frozen before extraction to allow us to capture more of the natural cannabis-based terpenes. Our extraction method requires a sophisticated hydrocarbon process which further protects the terpenes and allows us to avoid infusing the formulation with chemicals or botanical terpenes.



How do you source your ingredients? (Inputs, biomass, etc).

Since we are not a Canadian licensed producer, we have the luxury of working with the best producers in Canada to select the flower that best fits our strain profiles and quality standards.
R&D / Innovation
Which specific products or processes are your most innovative or unique and why?

Our unique vaporizer formulations combine fresh frozen flower extracts which are naturally rich in cannabis terpenes with natural cannabis extract in an ideal combination to provide a fuller flavour profile while the potential harshness during inhalation.



Tell us about any collaborations you have been (or currently are part of) with researchers, clinicians, scientists to help advance cannabis medical research.

Our partnership with Avicanna in Canada extends our reach through some of their clinical partnerships and collaborations as we aim to demonstrate the safety and efficacy of cannabinoid based products across medical and wellness segments. Additionally we have recently launched the Harrington institute for cannabis education in the U.S.



What are future products are you working on?

We plan to launch our line of pre-rolls, concentrates and edibles in Canada.