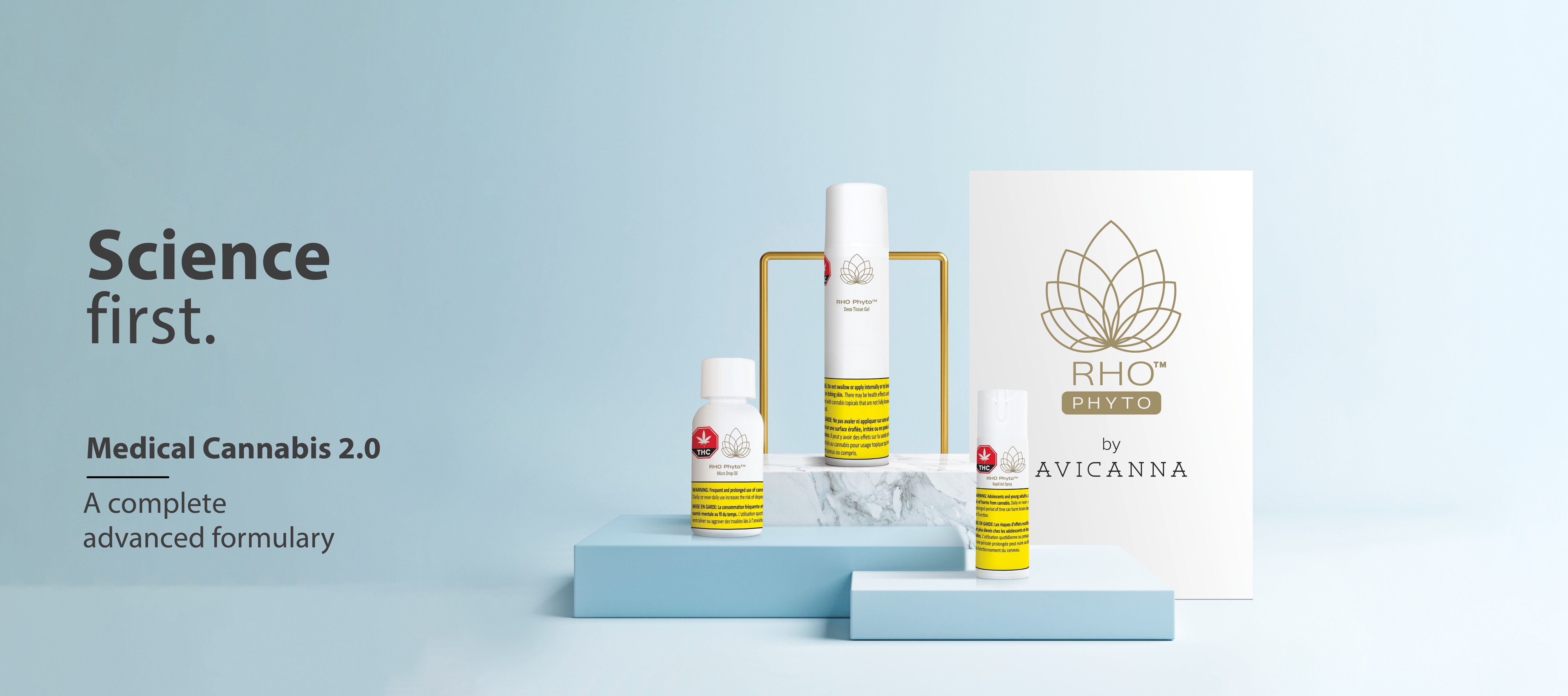 About RHO Phyto – By Avicanna
The RHO Phyto line of products have undergone extensive R&D and pre-clinical development to provide an optimized experience for patients as well as quality and consistency standards that physicians should expect from medical cannabis products.
The RHO Phyto advanced cannabis formulations include a range of CBD and THC ratios offered in oil drops, sublingual sprays and topical gels.
All RHO Phyto formulations are designed to maintain the stability, consistency and accurate dosing of cannabinoids through the course of treatment. The formulations are optimized for increased and faster absorption of cannabinoids which are synergistically combined with other natural ingredients for pleasant taste and aroma.
Avicanna is now supplying major Canadian hospitals with RHO Phyto medical cannabis products. Through this first-of-its-kind initiative, medical professionals gain education and training on RHO Phyto, and patients are supported with one-on-one guidance throughout their care. At present, patients with a written order from an authorized healthcare practitioner may choose from various formats of RHO Phyto products at Sunnybrook Hospital's Odette Cancer Centre pharmacy. Partnerships with more Canadian hospitals are scheduled to roll out throughout the rest of the year.
This collaborative program is aimed at setting the gold standard for medical cannabis care by establishing a complete cannabis consultation and dosing regimen for patients, who benefit from the expertise of both Avicanna's medical team and the excellent pharmacy teams at Canada's leading hospitals.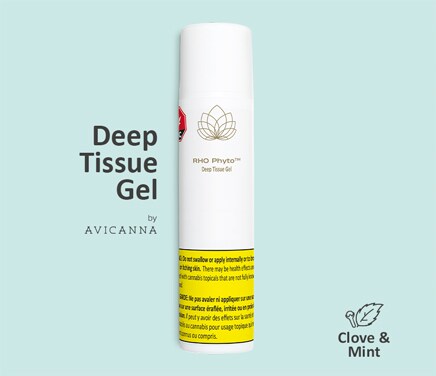 Deep Tissue Gel
RHO Phyto's Deep Tissue Gel synergistically combines natural cannabinoids, clove oil, menthol and natural polyphenols in an advanced emulsion that is optimized for faster absorption and deeper delivery. The formulations are also designed for long term cannabinoid shelf life stability, accurate dosing, a cooling sensation and pleasant mint aroma.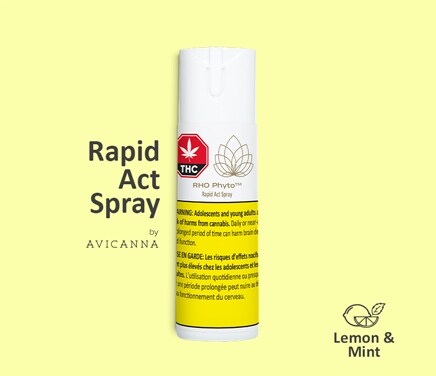 Rapid Act Spray
RHO Phyto's Rapid Act Sublingual Sprays are offered in natural lemon-mint flavour and optimized for more immediate onset and increased absorption through its sublingual delivery. The Rapid Act Sprays provide accurate dosing, arediscreet and easy to use allowing easy titration.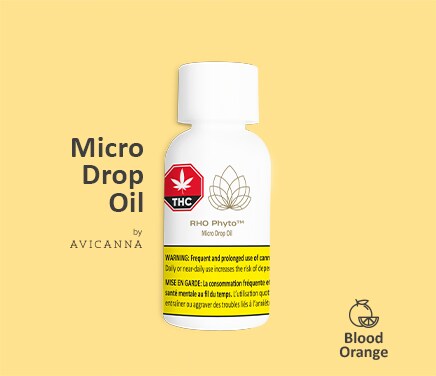 Micro Drop Oil
RHO Phyto's Micro Drops are offered in natural blood orange flavour and metered dosing for easy titration. The advanced emulsion formulations are designed to provide higher absorption and faster onset when compared to basic MCT formulations in the market.
The RHO Phyto Formulary
Our products are available in different THC:CBD ratio as well as a THC-Free option

Q & A with Medical Cannabis by Shoppers
RHO Phyto™ by Avicanna
1. Where are you located? Why do you work in this community?
Avicanna's headquarters is in Toronto, Ontario. Our main research and development facility is located in the Johnson & Johnson Innovation Center, JLABS @ Toronto, in the MaRS Discovery District, the center of Canada's life sciences and innovation network amongst leading academic and clinical institutions with which we collaborate.
2. Why is medical cannabis important to your organization?
Our mission is to provide advanced natural cannabinoid products backed by research to patients and healthcare professionals seeking medical cannabis solutions that are reliable and offer consistent dosing. 
We seek to provide both patients and healthcare professionals with not only an accommodating range of medical cannabis products, but also credible information and the support they need through our educational programs and real world evidence. 
There are unmet patient needs for science-based, tailored phytocannabinoid products that adhere to rigorous pharmaceutical quality standards and offer an appropriate range of doses, formulations, and delivery methods to address patients' individual requirements. 
Through our patient support programs we are able to gather feedback to optimize our formulations and advance research efforts and clinical trials while informing future product developments. 
We believe that cannabinoid-based products have utility in managing a wide range of symptoms such as pain, anxiety, sleep or appetite with potential benefits for several disease areas.
3. Which 'firsts' and other innovations is your company/brand proud of?
We have had several firsts:
We are the first and only cannabinoid company to be admitted into the Johnson and Johnson research incubator, JLABS @ Toronto, in Toronto's MaRS Discovery District

We have completed cosmetic clinical trials on cannabinoid-based derma-cosmetic products Pura H&W, which are available to the public on clinicaltrials.gov.
Products
4. How do you ensure that your products are safe and high quality for patients?
To ensure batch to batch consistency and pharmaceutical quality standards, Avicanna products are manufactured in a GMP (Good Manufacturing Practices) compliant facility (MediPharm Labs) and tested by a GMP analytical testing lab (Sigma Analytical Services). GMP is a system for ensuring that products are consistently produced and controlled according to quality standards. It is designed to minimize the risks involved in any pharmaceutical production that cannot be eliminated through testing the final product.
In addition, Avicanna products have undergone years of research and development in order to ensure that products maintain stability and consistency. Avicanna follows a pharmaceutical product development approach including the use of mainly pharmaceutical-grade ingredients to develop formulations with increased stability of cannabinoids. As a result, patients can rely on accurate label claims listed on their RHO Phyto products when they administer their dose.
5. What sets your products apart from competitive products and why should this matter to patients and consumers?
The full RHO Phyto portfolio of products has been created to address a range of symptoms which require various non-inhalation delivery forms and cannabinoid ratios, including oil drops, sublingual sprays, capsules, topicals. These products are designed with the patient in mind as they are consistent in dosing, discrete, odourless and are pleasant to the taste.
The varying delivery methods in the RHO Phyto portfolio address patient needs for both chronic and acute relief through varying onsets of action. This has been achieved by years of dedication to research and development with our academic and research institution partners.
Patients can feel confident that the RHO Phyto products will last longer on the shelf without cannabinoid degradation and can feel reassured that the product will deliver the same dose over time.
6. Which of your products have had the most interest from patients and healthcare providers and why?
Avicanna's RHO Phyto Rapid Act sublingual sprays have garnered significant interest among the medical community. This product was designed to increase absorption of cannabinoids through the surface area under the tongue and to avoid first-pass metabolism in the gut as with most ingestible medications. Health care practitioners see this product as an opportunity to address symptoms that require faster relief and as a supplement to slow-release products (i.e. oil drops and capsules).
Another product of interest for both patients and health care practitioners is RHO Phyto's Deep Tissue Gel. Coming soon to market, this fast absorbing gel can be applied on the skin. This product has a cooling effect and is formulated to increase absorption of cannabinoids into deeper layers of the skin.
R&D / Innovation
7. Which specific products or processes are your most innovative or unique and why?
Since inception, Avicanna has been dedicated to creating and optimizing advanced product offerings with patients and health care practitioners in mind. Our RHO Phyto line of products has undergone extensive R&D and pre-clinical development in partnership with University of Toronto and our own team of scientists working out of the Johnson and Johnson Innovation Center, JLABS @ Toronto in the MaRS Discovery District. 
Each product contains unique characteristics:
Micro Drop Oils are formulated as microemulsions to increase the absorption of cannabinoids across the gut wall

Rapid Act Sublingual Sprays are formulated with absorption across the sublingual membrane

Simple Dose Capsules include a self-emulsifying drug delivery system to optimize absorption and increase bioavailability of cannabinoids

Deep Tissue Topical Gel is uniquely formulated to increase absorption into deeper layers of the skin
8. Tell us about any collaborations you have been (or currently are part of) with researchers, clinicians, scientists to help advance cannabis medical research.
We have spent the past 3 years working with researchers and clinicians from world class institutions including the University of Toronto, University of Guelph, University of West Indies, Sick Kids Hospital and several other leading research institutions. We have invested in the future of phytocannabinoid solutions and are committed to developing the highest quality products by following the traditional pharmaceutical product development pathway which requires a data-driven approach including studying RHO Phyto products in pre-clinical and clinical settings to evaluate efficacy and safety.
As our products are now available to the medical community, we are establishing further clinical research collaborations to conduct observational trials with a focus on chronic pain, epilepsy and various comorbidities such as anxiety, depression, and sleep. We will use the data we gather to further build on our educational programs geared toward the medical and research communities and, through our internal feedback and review processes, we will use the information and data gathered from our outreach efforts to advance and optimize our clinical efforts so that we can help advance cannabis medical research for the patient and health care community.
9. What ongoing studies are you participating in?
The RHO Phyto products are part of the first of its kind study in Canada, the Medical Cannabis – Real world Evidence (MC-RWE) trials led by the University Health Network and Medical Cannabis by Shoppers. In order to qualify for this study, the products must be evaluated by approved analytical testing labs and part of the TruTrace Platform, a blockchain technology gathering seed to sale data.
In addition to the MC-RWE, Avicanna will be conducting observational trials with its RHO Phyto products to evaluate the safety and efficacy on opioid sparing in chronic pain patients, wound healing in Epidermolysis Bullosa and relief of Crohn's disease related symptoms. 
In addition to the primary focus, we will also be evaluating the effect of these products on various symptom clusters including anxiety, depression, sleep and appetite. 
Globally, Avicanna has completed a prevalence study on neuropathic pain in sickle cell disease at University of West Indies and is currently preparing an intervention study to evaluate the safety and efficacy of RHO Phyto capsules on neuropathic pain and other related comorbidities.
10. What future products are you working on?
Avicanna continues to evaluate the current needs of patients and in consultation with healthcare providers seeks to launch its sustained release tablets, fast release sublingual tablets and transdermal patches.