Learn Section
Top Medical Cannabis Myths: Debunked
Has your neighbour, friend or distant cousin commented on medical cannabis? Though well-intentioned, they may not have had all the facts. Here, we break down some of the most pervasive myths and rumours to help set the record straight about medical cannabis.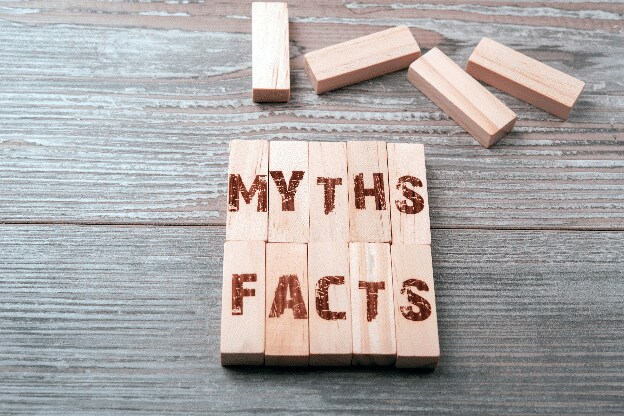 While cannabis has been around for centuries, its reintroduction into medical circles is still very new. We're all learning together, which means even medical professionals may still be learning about cannabis-based medicine. Below are seven core truths about cannabis, their related myths, and fact-based evidence to help untangle fact from fiction.
1. Truth: CBD falls under the Cannabis Act
Myth: "CBD isn't cannabis."
Cannabidiol, or CBD, is one of the many chemicals found in cannabis. Its production, manufacture and sale fall under the Cannabis Act, meaning only licenced producers and retailers are legally permitted to create and sell CBD-containing products: oils, capsules, tinctures, gummies, topicals, bath bombs, teas, honey, cookies, etc. The Cannabis Act is in place to monitor cannabis production, from seed to sale, to safeguard the public against unwanted things such as moulds, pesticides, contaminants, and unsafe food handling, if applicable. Each of these checks and balances helps to ensure you, the patient, receive high-quality medicine. 
Even hemp-derived CBD falls under the Cannabis Act. Sometimes CBD gets confused with hemp-seed oil, an agricultural oil product made by pressing the grains of hemp plants. Hemp-seed oil does not contain CBD extract, or any other cannabinoids for that matter, which is why you can readily find hemp-seed oil in foods, soaps and other cosmetics at general retailers.
Myth: "CBD is harmless"
CBD is a chemical within cannabis that mimics a chemical our own bodies produce: an endocannabinoid called 2-AG. The introduction of CBD into your body, while non-intoxicating, does have an effect on the brain, which means it is considered psychoactive. CBD can interact with some prescription medications and herbal products.

Evidence points towards CBD having a calming, relaxing effect on the central nervous system. People turn to CBD to help manage the symptoms of a wide range of conditions, including inflammation, seizures, migraines, and anxiety. Being monitored by a licenced healthcare provider can ensure proper dosing for your condition, plus they'll spot any prescriptions or supplements you're already taking that may not go well with CBD (meaning there is a reason not to receive treatment) . If you have a health concern you think could be managed with CBD, your best route for success is to make an appointment with a cannabis-trained healthcare provider. Read on to understand more about your options.
2. Truth: Access to medical cannabis is easy
Myth: "It's difficult to access medical cannabis"
Not so! Obtaining a  medical document is more accessible than ever. A medical document is a form signed by a physician or nurse practitioner to authorize a patient's use of cannabis—also called "authorization". A prescription for conventional drug therapies works much the same way.
You do not need a referral from a family physician to meet with a cannabis-trained healthcare practitioner. Nor are you undermining your family physician if you choose a licensed cannabis clinic— Most virtual clinics can see prospective patients in just a few days; in-person clinics within one or two weeks. After a consult, the cannabis-trained physician or nurse practitioner then signs a medical document, which is forwarded to a licensed cannabis retailer or provider of your choosing. You can shop for your medicine from more than one place.
If you choose to purchase your medicine through the Medical Cannabis by Shoppers™ online platform, where you have access to over 35 cannabis brands with a single medical document, take a few moments to register with us (Health Canada requires that all patients register with their licensed retailer or provider—see below for tax benefits). Once we have your medical document, and you've registered with us, you can typically be shopping within 24 to 48 hours.
Myth: "I won't qualify for medical cannabis"
You might be surprised. One of the most common reasons people turn to medical cannabis is pain: migraines, joint pain, neuropathic pain, endometriosis and more. Various other symptoms can be successfully managed with cannabis, including (but not limited to):
Pain and inflammation

Anxiety

Sleep disorders

Poor appetite

Nausea and vomiting

Epilepsy

Gastrointestinal disorders (e.g. Crohn's disease)

Migraines

Mood disorders

Neurodegenerative disorders (e.g. Multiple Sclerosis; Parkinson's)

PTSD
3. Truth: Not all cannabis products available online or in stores are legal
Myth: "Every cannabis product in Canada is legal"
One of the biggest myths out there is that all cannabis is legal in Canada. It is not, despite the number of stores and websites out there. As outlined in the Cannabis Act, only licensed businesses can grow, produce, manufacture and sell cannabis products for sale in Canada. (Also check your provincial laws about growing your own cannabis for personal use, which may or may not be permitted.) This legal framework safeguards the end consumer against misleading claims about THC or CBD percentages, poor product quality and potential contaminants. Licensed products also provide traceability in the event of a recall, product complaints, or merchandise that goes missing in the mail.
A legal medical cannabis website will always be age-gated, plus require registration and medical authorization to purchase cannabis.
Myth: "Stickers that say 'lab-tested' means the product must be legal."
It can be very hard to tell what's regulated and what isn't. Regulated products will have not just one, but each of the three identifiers below:
Health Canada's yellow Health Warning Label, in both English and French

A red-and-black standardized cannabis symbol, similar to a stop-sign with a cannabis leaf and "THC" lettering, placed in the upper-left corner of the package

An excise stamp, which is different for every province and territory selling cannabis products with more than 0.3% THC
As well, legal edibles do not contain more than 10mg THC per package, limited caffeine levels, and zero added alcohol. Packaging cannot be appealing to children, so edibles packaged to look like popular mainstream confectionary brands are not legal.
4. Truth: Medical cannabis is competitively priced with recreational
Myth: "Prescription-level cannabis is more expensive"
There are no "levels" of cannabis. Authorization—often thought of as a prescription—allows patients to purchase cannabis products under the supervision of a healthcare provider to manage the symptoms of a health condition. Medical licensed producers offer patients many of the same products as what's found on the recreational market. As such, patients will not find their options "more expensive" than the recreational store down the road or online. In fact, medical cannabis patients benefit from frequent product sales, price drops and compassionate pricing offered to low-income patients, seniors, pediatric patients, and veterans that recreational customers do not have access to. Also, some private insurance companies cover medical cannabis, but coverage can't be accessed if you're not authorized. Plus, medical cannabis can be claimed on your taxes in two different ways, which recreational cannabis cannot.
5. Truth: Medical cannabis can be claimed on your income taxes
Myth: "If I use recreational cannabis for medical purposes, I can claim it on my tax return."
Authorized medical cannabis is an eligible medical expense in Canada. You can claim your cannabis medicine on lines 33099 and 33199 of your tax return, as long as your medicine is purchased from a licensed medical seller with whom you are registered.
You can also register yourself with Health Canada, which would allow you to purchase medical cannabis from any licensed retail store or website as long as you are authorized by a licensed healthcare practitioner. 
6. Truth: Cannabis is widely studied for its medical benefits
Myth: "There is no scientific research on cannabis"
At the time of publishing this article, there are over 400 clinical trials in progress. Researchers the world over are actively analyzing cannabis for its potential to manage dozens of symptoms, ranging from pain to skin disorders to brain health. Considering many cannabis breakthroughs didn't occur until the late 20th century, when cannabinoids were first isolated for study, the body of cannabis science is still in its infancy. Compare this to morphine, a well-understood medicine that was first isolated for study in the early 1800s.
The majority of cannabis studies are still in the "early" stage because it takes many years for researchers to gain approvals, secure funding for studies, and pass pre-clinical trials before a clinical trial involving humans can take place. Even then, conclusive evidence cannot be made until much more research—and time—has been put into the initial findings. 
The good news is the medical community already recognizes cannabis as helpful for managing a wide range of physical and mental symptoms, with more conclusive evidence added to the body of cannabis knowledge every year.
7. Truth: Enduring stigma surrounds cannabis
Even though Canadians have been able to legally access medical cannabis since 2001, there are still many myths and rumours left over from cannabis prohibition. Some of the ones facing patients today include: 
Myth: "I'll have to smoke cannabis"
You do not have to smoke cannabis. In fact, you don't have to inhale cannabis at all—many patients choose to ingest their medicine through capsules, oils or edibles which take one to two hours to take effect, but can last up to 10 hours.
Patients who do need to inhale their medicine can use a vaporizer, either portable or desktop, which heats the cannabis until its compounds boil into a vapour. Vaporizers do not combust (burn) the product, which means there is no smoke that can potentially irritate the throat and lungs. Inhalation offers near-immediate onset and is preferred for some health conditions,.
Myth: "Using cannabis means I'll have to be high all the time"
Not so. There are hundreds of compounds in cannabis: cannabinoids, terpenes, flavonoids and more. Only one compound, the cannabinoid THC, has an intoxicating effect, although some terpenes also have a sedative effect. Depending on the condition you're trying to manage, your healthcare provider may suggest some THC, or none at all. You don't ever have to feel uncomfortable while taking cannabis. Your healthcare provider, and our cannabis-trained pharmacists, can help create a treatment plan based on your needs and experiences. . 
Myth: "I'll gain weight from all the munchies"
Interestingly, the opposite may be true. Early research suggests activation of the endocannabinoid system—a large network of bodily receptors that respond to cannabinoids—may actually help regulate appetite and metabolic function over the long term. 
Myth: "People won't take my illness seriously if I manage it with cannabis"
Your medicine is your business, and no one else's. If you do feel isolated and would like other cannabis patients to connect with, there are plenty of patient-focused peer support groups, such as SheCann, that offer both community and quality information.
Myth: "I'll get brain damage, become addicted to cannabis, then turn to harder drugs"
Modern brain imaging has shown cannabis does not cause damage to the brain. There is also no conclusive evidence supporting the theory that cannabis is a "gateway drug" that leads to harder substances.
It is estimated a small percentage of the population, about 1 in 11 people, can become addicted to cannabis. However, the risk of addiction to cannabis is considered lower than the risk of addiction to alcohol, tobacco or opioids. Signs of an addiction include a 12-month pattern of failing to perform at work or school, giving up important activities, consuming larger amounts over a longer period than intended, and being unable to cut down on cannabis use. 
Talk with your healthcare provider or someone on our Shoppers® Cannabis Care Team if you identify with one or more of the negative patterns listed. 
If you have further questions on any of the topics above, don't hesitate to contact us. Use our Live Chat feature, complete the contact form so we can connect with you, or call our Shoppers Cannabis Care Team at 1-844-633-2627 and a patient educator will be happy to talk to you.